You are here: The Method / The strategic cycle of sustainability®
THE STRATEGIC CYCLE OF SUSTAINABILITY®
The decision-making methodology for the sustainable strategic transformation of your company

The strategic cycle of sustainability is a multidisciplinary method that quickly integrates sustainability as a fundamental value in the Culture and Corporate Strategy to create long-term shared value among strategic stakeholders.
Lean Decision Quality integrated with Stratego's Strategic Sustainability Framework generates The Strategic Cycle of Sustainability, designed for Future-Proof Organizations that intend to be Regenerative too – pursue Profit and have an impact on the Social and the Environment.
THE STRATEGIC CYCLE OF SUSTAINABILITY GOAL
Esigning virtuous strategies and business models that are scalable and sustainable over time to position uniquely in the eyes of the customer
Accelerating Performance
Increasing the engagement of strategic stakeholders
Costs Efficiency of internal and external resources; to have an impact also in the social and environmental dimension
THE STRATEGIC CYCLE OF SUSTAINABILITY METHOD
The continuous dialogue between internal and external stakeholders and the focus on emerging trends facilitates the creation of new ideas to anticipate and react to economic, social, environmental and regulatory changes as they arise.
In a sustainable perspective, the new idea allows you to change the Current Value Proposition with a New, assessing the internal and external impacts of the organization.
To develop the new value proposition, we use the Lean Decision Quality® method, whose goal is to seek the best solution and always maximize our investment's value, to create shared value on as many internal and external stakeholders as possible.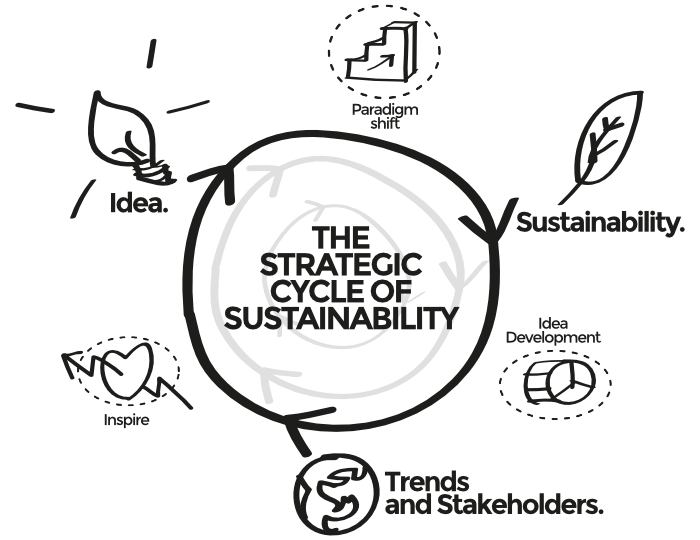 FROM SHAREHOLDERS TO STAKEHOLDERS VALUE
The sustainability of a company doesn't involve mere profit but also the respect and well-being that it manages to guarantee to employees; equal treatment between men and women; a work-life balance; participation in the wealth produced. Pay suppliers, or so-called partners, fairly and in compliance with deadlines; create value and engagement for the customer; redistribution of the wealth produced by creating well-being for the community where it operates and to think globally about the planet's problems.
THE DIFFERENTIATING VALUES OF THE STRATEGIC CYCLE OF SUSTAINABILITY METHOD.
Sustainability as a strategic lever for cultural change and new ways of doing business
Develop the ability to define compelling strategies and business models that are scalable and sustainable over time, consistent with Corporate Vision and Values
Transform products into unique projects/experiences – product for purpose – for customers
Increase the capacity for strategic and systemic thinking
Accelerate performance, productivity and motivation to do
Create a sense of belonging and allow you to have more motivated and happy people
Increases the Awareness that we live on a single planet
WHERE WE USE THE STRATEGIC CYCLE OF SUSTAINABILITY®
Transforming strategy and business model from a sustainable perspective
Turning products into unique projects/experiences for customers
Sustainable strategic positioning of brand
Increasing Performance and Cost Efficiency
Finding New Ways to Do Business
Turning the enterprise into a Purpose and Values-driven company
Creating highly performing teams
Implementing effective and efficient processes
THE CREATION AND MANAGEMENT OF SUSTAINABLE BUSINESSES IS THE MAIN COMPETENCE OF FUTURE LEADERS