As Descartes said, "it is not enough to be endowed with good ingenuity, the important thing is to know how to apply it well".
When we must solve a problem or seize an opportunity, we often rely on our experience and everything in our heads. For issues that have little complexity and uncertainty, our intuition is fine. Still, when these two variables become relevant, you must rely on decision-making processes and methods that help guide you and your team step by step towards the goal, not to lose opportunity and value. There is no perfect method because it always has limits, especially if the goal is complex and oriented in the long term (5-10-20 years).
What if, instead, we had an open, multidisciplinary methodology that covered the different phases: inspiration, framing, ideation, evaluation, and implementation? What if these phases are held together by a fil-rouge that allows the interpolation of frameworks belonging to other methodologies to capture Exponential Systemic Value from a complex project?
The solution exists.
The fil-rouge is called the open, multidisciplinary methodology Lean Decision Quality. In the example below, we will see its use with other valuable frameworks/methods/canvas. To summarize, I report only a few.
Let's map the different methodologies in Henry Ford's dream.
Background
We are in the midst of an industrial revolution; the population of the big cities, from Paris to New York, to London, is growing fast. And as the number of people increases, the need to move quickly increases. The railway lines were limited and did not solve the problems of the cities. So, horse-drawn carriages were used from small carriages to a horse to large carriages with ten or more horses. The possibility of faster travel greatly affected social life, significantly boosting the economy. In New York City in 1853, horse-drawn trams carried more than 130,000 people a day across the Big Apple.
To feed the horses – it is estimated that there were about 180,000 in New York in 1880 – vast expanses of land near the cities were deforested; others, already intended for agricultural use, were converted into hay crops, causing overtime severe imbalances in the supply of urban populations. But the most serious problem was the equine excrement, which allowed the proliferation of typhoid flies, carriers for many infectious diseases, first of all, typhus. It has been estimated that they killed at least 20,000 New Yorkers annually.
At the end of the 1800s, there were only very expensive cars and carriages. Henry Ford aimed to "put the world on wheels" and produce an economical vehicle for the public. In 1908 he made this lens with the Model T.
Ford has changed many people's lives with its practical and affordable cars. The development of the mobile assembly line and mass production techniques set a world standard in the first half of the 20th century.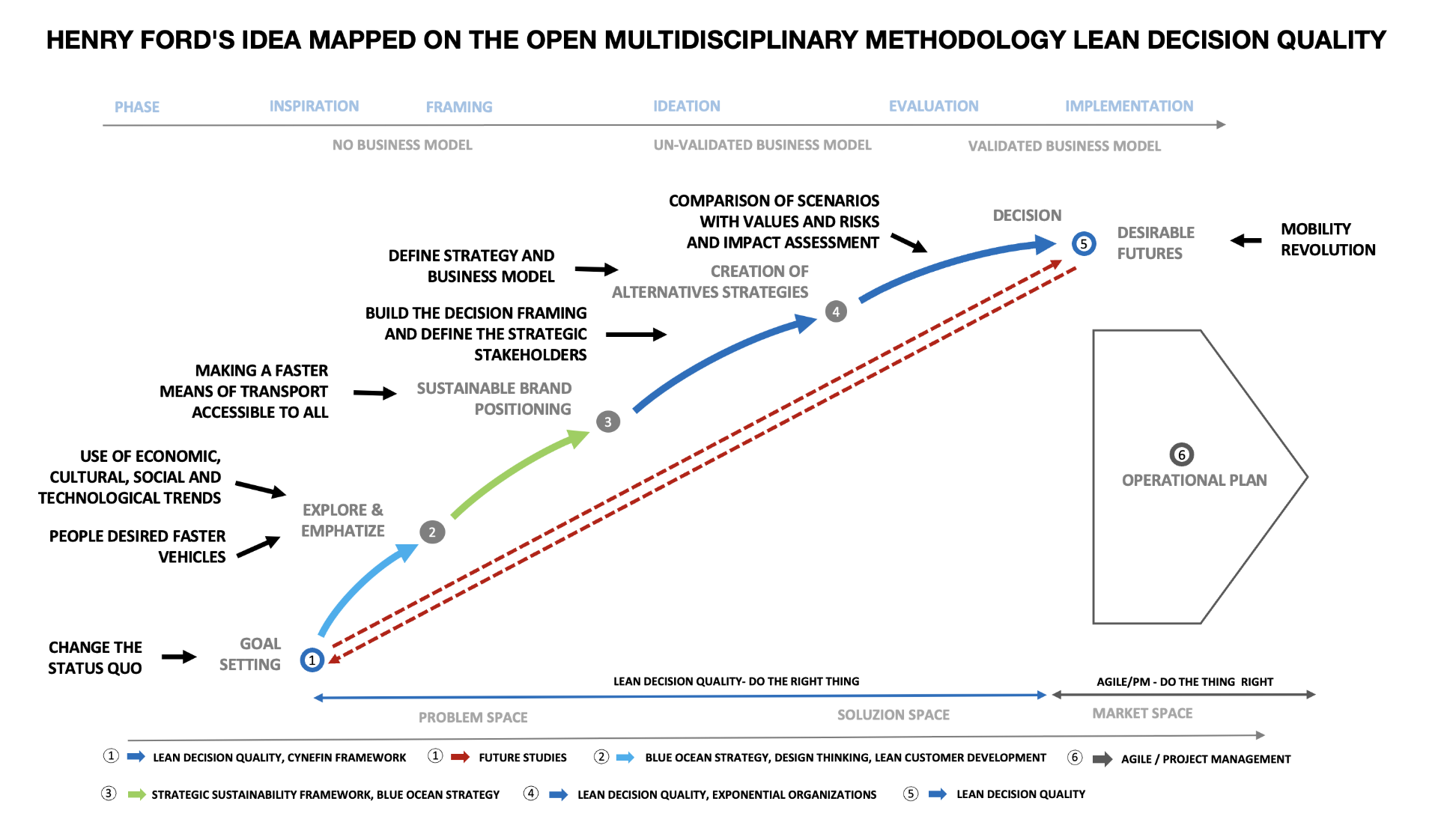 Henry Ford's idea mapped on the open multidisciplinary methodology Lean Decision Quality.
To understand Ford's vision, one of his most famous phrases comes to our aid: "if I had asked my customers what they wanted, they would have answered me: a faster horse".
Below is the complete development of the Lean Decision Quality® framework
Goal setting
Activities – Changing the status quo
Framework – Lean Decision Quality(1) allows us to be critical of the problem to assess if it is a real problem. Of course, the problem/opportunity should be developed into the reference context (simple, complicated, complex, chaotic) and for this, we can use the Cynefin(2) Framework.
Activities – Revolutionizing mobility
Framework – Future Studies(3) allow us to project into the future and generate alternative futures to understand the most desirable ones. You can use Backcasting and Scenario Generation(4) techniques (which will enable you to understand what the most significant uncertainties are – what I don't know – and trends – what I know – that affect our final goal)
Exploring and Emphasizing
Activities – Exploring the context of reference: social, economic, cultural, sector and technological trends
Framework – Design Thinking(5) techniques to understand the social, emotional and physical contexts of potential customers
Activities – Understanding the "hidden" needs of customers: not a horse but a faster means
Framework – Lean Customer Development(6) techniques and use of Buyer Utility Map and 3 Tiers of Noncustomers of the Blue Ocean Strategy(7) to recognize hidden needs and target customers not yet satisfied by existing services
Sustainable Positioning of Brands
Activities – Making faster transport accessible to all
Framework – use of the Strategic Sustainability Framework of The Strategic Cycle of Sustainability(8) and Strategy Canvas of Blue Ocean Strategy to position yourself in a unique way in the eyes of the customer
Devising Alternative Strategic Scenarios
Activities – Building the decision-making framework and the map of strategic stakeholders that impact the goal. From here, generate alternative scenarios that allow defining strategy and model of systemic business (mobile assembly line and techniques of mass production)
Framework – use of the Lean Decision Quality Decision Framing and Strategy Table frameworks and the Exponential Organizations(9) framework to research the business model that generates scalability and exponential value
Assessment and Decision
Activities – Analyze the various alternatives with values and risks to choose the best solution that leads to a desirable future. H. Ford decides to pursue his dream of "put the world on wheels"
Framework – use of analytical tools (tornado diagram, decision trees, etc) combined with the strategic and systemic thinking of Lean Decision Quality
Operational Plan
Business – Turning strategy into an operational plan for fast mass-accessible car production
Framework – Agile(10) and Project Management
We talked much about Customer Centricity today, but we must be cautious! Let's turn it into Stakeholder Centricity to generate more engagement, customer experience and long-term shared exponential value.
---
Rif.