The economic and business environment is constantly evolving due to various factors:
Globalization, innovation, new management models: these are key elements which have a great impact on the development and success in various sectors (services, manufacture, retail, financial, etc. …);
The culture of innovation and of change and project management becomes more and more important to entrepreneurs, company managers, and freelancers assisting companies.
I believe it is now fundamental to any organization to be skilled in change and strategic management, to survive, develop and differentiate.
The "roots" of a good manager are great managing skills, which can be either innate or the result of years spent working and learning. Their features are: proactivity (make things happen rather than adapt to any situations), flexibility needed to promptly adapt to change and a problem-solving attitude and the ability to manage their professional life with  entrepreneurial criteria.
It is worth remembering that experience does not always mean skill: recent financial scandals and recurring crisis have shown how the involved managers simply reacted to events after those have collided with their corporate system. Field experience, when limited to day-by-day management or to top-down inputs, hardly generates value and a professional  growth which could be proactive, flexible and change-oriented.
In order to develop these skills you need to train constantly, to have first-hand experience and to be exposed to different situations, realities, people, and company cultures.

This is why it becomes necessary to reinterpret and re-evaluate the key role of Human Resources Department, whose functions need to get from simply being "administrative" to really manage the human capital, by promoting change and skills development.

Digital evolution has been changing everything and has impacted both production and consumer habits. This is forcing organizations to adopt measures inspired by change and innovation derived from a deep analysis of market needs to evaluate how to profitably satisfy them.
This change, involving every company and their resources, requires managers who can interpret even the weakest signals coming from the market to plan ahead strategic changes.
Hence the need to strengthen strategic and change management skills need to effectively put into practice innovation processes paying close attention to scenarios, methods and strategic management skills (using the most advanced methodologies).
In concrete terms, Innovation is the renewal of knowledge and actions and its Value is realized only when it becomes a long-term economic and social advantage.
Innovation can either be a product, a process, a technology, etc., and it always involves changing how human resources work. So, innovation is also and most of all about Human Resources, whose involvement and skill level are key factors to a business success.
Innovation doesn't necessarily have to produce a discontinuity in the market where the company operates; it is enough for it to produce discontinuity inside the company adopting it.
Innovation is complex, can be carried out in a number of ways and it never goes from A to B in a straight line: you can find input and feedback in any nodes of our ecosystem.
The development of an innovative "ecosystem" is thus fundamental:
an innovation-oriented company culture promoting talents' creativity, global vision, a tendency to adopt new business models and technologies, and, last but not the least, a top management with an open mind and an attitude toward change.
the development of a proactive "personnel" (researchers, designers, marketers, agents, etc. …) capable of sensing, reading and sharing information
a tendency to external culture contamination, "Open Innovation" (startups, research centres, etc. …)
Using Lean Decision Quality to increase Strategic & Change Management skills and to promote organizational Innovation can promote the following benefits:
Ongoing dialogue among the various company departments
Open Culture – Open Innovation
Filling the void in strategic management skills inside SMEs and at middle and execution levels of Corporates
1. Ongoing dialogue among the various company departments
When a company is planning for its future, making quality decisions means building a communication process fostering a kind of interaction which focuses on a shared goal among the various business units, using analytical and creative tools which directly influence the decisions.
To make successful decisions you need to move from the traditional decision-making process based on Intuition and Advocacy of a solution to an Dialogue Decision Process approach among the parties, involving Decision Makers and the Decision Team to find the best solution and produce the greatest company value.
The Dialogue Decision Process method, introduced by Stanford University, makes the decision process a bit longer, because it explores different possibilities and involves the various business units influencing the goal, but it has the advantage of making implementation quicker. This produces commitment, alignment, coherence, confidence in the made decisions.
Quoting Vincent Barabba: if you want to change the culture of an organization, change the way people make decisions.
Lean Decision Quality, decision-making process method, uses creativity (chaos) to produce values (alternative ideas) and rationality, analytical processes (order), to decide which idea produces the maximum value linked to the business goal.
Implementing this new decision-making process in any organization foster and develop the 10 skills listed by Word Economic Forum at all company levels.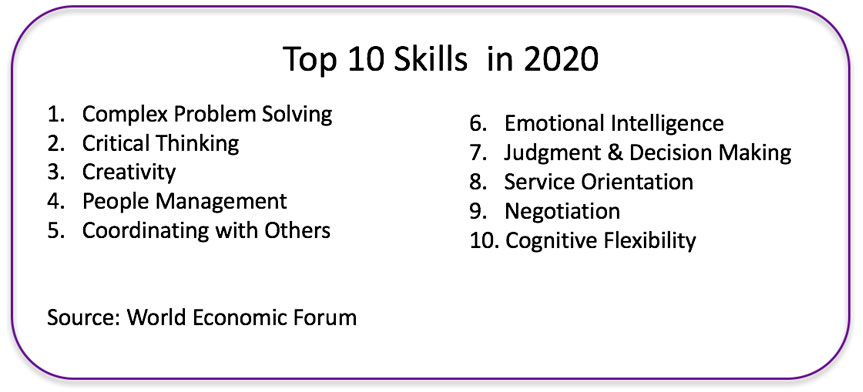 The following describes the three hierarchical levels of decisional powers:
Top Management: defining goals and company strategic choices
Middle Management: making decisions in the functional area or in the company division dealing with the allocation of the resources necessary to put goals and strategic choices into practice defined at the top management level
Execution Management: translating decisions made by superior levels into concrete actions
Shifting competences toward the top levels, thanks to Lean Decision Quality, enables to make effective and efficient decisions and to align the frame to the business goal. This new way of thinking and acting also encourages a positive and proactive environment and develop a sense of belonging inside the company.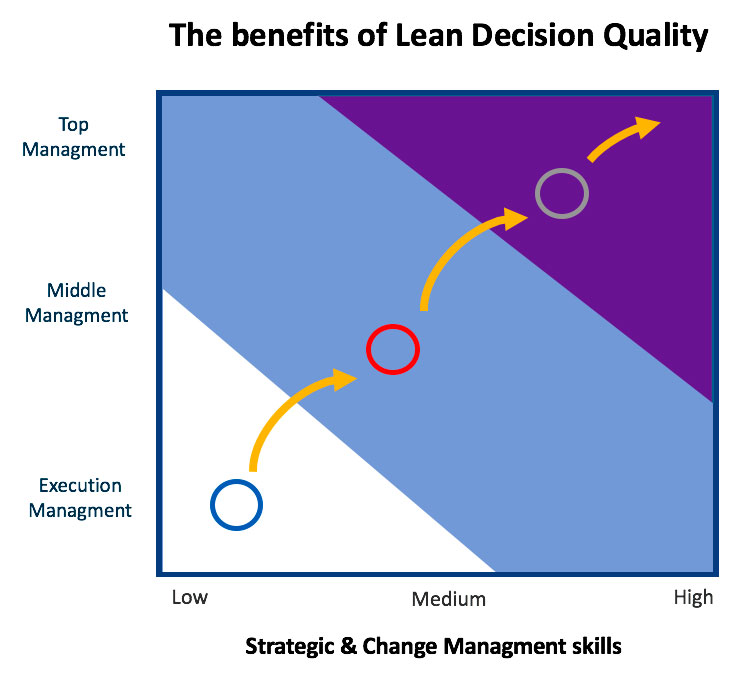 2. Open Culture – Open Innovation
The definition of new decision-making processes through the Lean Decision Quality method enables an ongoing dialogue among the various business units and levels making them more fluid, dynamic, less hierarchical (the silos model) and open to the production and evaluation of staff ideas, and listening to external sources (clients, suppliers, etc. …).
As Robert Tucker, author of the book Driving Growth Through Innovation, stated one of the reasons why innovation has not become a key factor for the growth and profitability of many organizations is that it has been limited by functional and divisional "silos". In other words, the responsibility of innovation has been confined to the Research & Development division or to a senior level strategy planning group. Everyone must be responsible for the Strategic Innovation.

Proactive Innovation produced by Lean Decision Quality
This new culture will produce a greater openness to innovation, both internal and external.  It will no more be a matter of finding the best process – top-down or bottom-up – there will be proactive or cross innovation, coming from every direction, internal and external.
CEB Global (https://www.cebglobal.com/blogs/the-three-elements-that-underpin-a-culture-of-innovation/) has recently identified the three keys to develop a culture of organizational innovation, based on their researches:
Environment: have the permission to challenge assumptions, creating openness to new ideas and giving freedom to experiment, fail, and learn
Talent: Put targeted training and development in place for innovation, set innovation performance objectives and management culture, and put together diverse teams
Process: Consider broad sources for idea generation, and have a process to incubate innovative concepts
In fact, failure to support innovation most often stems from an organization's culture rather than some true operational or resource constraint.
3. Filling the void in strategic management skills inside SMEs and at middle and execution levels of Corporates
Lean Decision Quality is an effective decision-making method, it is immediate, flexible, easy and low budget, designed to generate a new approach to Problem Solving, Critical Thinking,  Team-working, to the effective use of creativity in any organization to innovate and create value for stakeholders.
Lean Decision Quality is democratic and designed to fill exactly the void in Strategic Management between SMEs and Corporate and inside Corporates as well, where decisional skills are limited to a small group of managers.
Lean Decision Quality is both a toolset and a mindset which makes it possible for any organization to effectively solve their internal problems as well as the clients', generating value.
It being convenient, effective and immediate allow those who use this method to gain clear benefits in terms of problem solving, confidence and coherence to the made decision and in terms of quicker implementation of such decision.
Let's translate these ideas to a more practical level using an example. To stress how this method is easy to implement in any organization, we chose agriculture.
In our example, the farmer will be a SME while the landowner will be a corporate. Their tools (i.e. Strategic Management skills) are the how and the tractor respectively.

Tractor sellers, that is the consulting companies providing skills to corporate top management, don't see neither the farmer and their small plot of land (their business) nor the landowner's middle or execution management as their clients, they don't seem to fit in their target. And the farmer, used to hoeing, could see the tractor as a counterproductive tool, for example when growing grapes.
But, if the tractor isn't the right answer to the needs of farmers, which is the adequate tool for them and for the various levels of the landowner's structure? A rototiller, that is Lean Decision Quality. A lower budget tool, easy and immediate both for farmers and the middle and execution management, as well as, in a more structured way, for the top management.
The benefits of using a rototiller are:
Farmer (SME)
it is flexible and can be used anywhere and for any kind of crop;
it is low budget and bought and in target;
it is effective because it allows a competitive positioning and to compete, in some cases, with bigger landowners
Landowner (Corporate)
it can be used by anyone and this can increase production (in terms of efficiency, effectiveness, innovation) while still being flexible and suitable to every crop;
it is a way middle and execution management can try a motorized tool. They will quickly be able to drive a real tractor.
So, Lean Decision Quality can be used by any organization and at any corporate level to innovate.
Stratego empowers people to become leaders…