With the great forces of the modern age – the digital economy, exponential technologies, geopolitical transformations, globalization, social and climate change – it is increasingly difficult to achieve a sustainable competitive advantage over time. For this reason, organizations need to evolve their business and leadership model supported by a change in Mindset to thrive over time.
Why do we have to have a proven and reliable decision-making process today so that people can decide with confidence, consistency and commitment in a world full of uncertainties and significant volatility?
The reason is simple: We miss many opportunities because we are Humans.
It has been widely proved in the past 30-40 years and by various psychologists – Amos Tversky and Daniel Kahneman among others – that when a person has to make a decision in an uncertain situation they will mostly use an "intuitive thought" resorting to heuristics, that is to mental shortcuts deriving from our evolution, which lead to biases and to wrong decisions, rather than taking advantage of refined rational processes.
What is the difference between Good Decisions vs Quality Decisions? We need to understand how the human mind works.
Going further into the human brain, Daniel Kahneman, a psychologist and Nobel prize for economics, in his famous book "Thinking Fast & Slow", explains very well the mental processes that guide our decisions.
Daniel Kahneman states that we have two significantly different mental processes.
System 1_(FAST BRAIN): it processes emotions and makes decisions; it is extremely fast, intuitive, emotional, makes decisions according to experience, works on the assumption that all that is accessible is all that matters (WYSIATI or Comfort Zone). It can't be trained to reason correctly to make deliberate decisions, and without a support, it can lead us into biases & traps.
SYSTEM 2_(SLOW BAIN): it processes the logic; it is slow, analytical, rational, reflective and conscious. It can be trained to perform basic decision-making tasks by installing the so-called "mindware", namely the knowledge and procedures that our brain uses to solve problems or make decisions. However, SLOW Brain is susceptible to bias, especially in complex decision-making situations, which present uncertainty or interaction between many factors.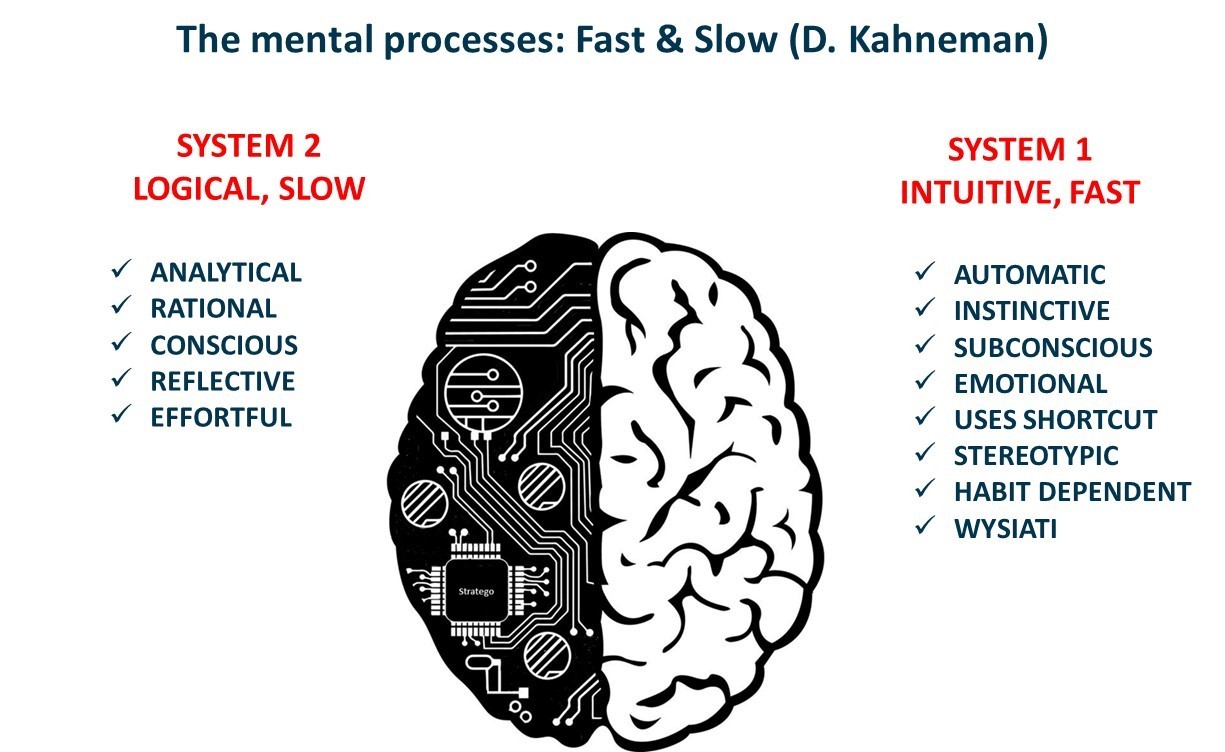 There are many evidences that the brain is naturally inclined to prefer being in its comfort zone, in situations where it can control everything; it also has the tendency to simplify reality based on its mindsets, to skip alternatives and underestimate risks.
This behavioral model leads us to believe that we can reach quality decisions by favoring a process which starts from only one sketched out solution and leads to advocacy through an intense stream of questions.
If we see it like this, well… we're not on the best path to reach the greatest value of any decisions.
What it means to make a Quality Decision
1.    Ask the right questions and do not give the correct answers; otherwise, there is a process of advocacy with employees and colleagues, thus losing many opportunities. About 80% of decisions are made by intuition or advocacy. Think about how much value, assumed as an opportunity, is dispersed. Asking the right questions leads to a mitigation of the main cognitive biases (Overconfidence, Confirmation Bias, Anchoring and Groupthink)
2.    Engaging the right people working on a shared goal means fostering diversity, which implies looking at the problem or opportunity from different points of view to enrich the initial idea
3.    Recognizing that your idea is as valuable as that of others (intellectual honesty), then evaluating the different scenarios (different strategies and business models) allows you to increase the chances of success and reduce risks
4.    Gather reliable information on these scenarios and evaluate them simultaneously with the values and risks to have a decision based on logic and not on intuition, and identify the one that generates the highest Value
5.    Choose not the one that attracts us or our boss, but the most consistent solution with the goal set, with the corporate identity and strategy in place
By acting in this way, we have eluded many of the mental traps our brains every day:
preference to solve problems in the comfort zone, according to what he knows – experience
tendency to simplify reality according to one's mental patterns
preference to reject alternatives, as it is complex and confusing
tendency to underestimate risks because he feels confident in what he knows and knows
tendency to selfishly choose the most straightforward way
One possible decision-making method to mitigate these tendencies could be Lean Decision Quality®.
With the Lean Decision Quality® method, decision-making finds a whole new approach designed to integrate, in a harmonious and synergic process, the purpose, the values, with the attitudes of the people, the strategy and business goal, in a multidisciplinary environment fostering collaborating to produce new alternatives and a "fertile soil" for the systemic business development overtime.
The multidisciplinary methodology Lean Decision Quality®, an evolution of the Stanford University method, based on Science and Neuroscience, helps you to break the patterns, to identify strategic & systemic directions of value and to develop internal skills and abilities to create a series of projects (initiatives), to make your organization more Resilient, Systemic, Proactive and Regenerative and succeed in a rapidly evolving market.
Lean Decision Quality® enables, in a virtuous cycle,
Decision Makers to create the best working environment, the right mentality and to provide the most appropriate tools to their employees
The Dream Team to generate confidence, consistency and commitment in Decision Makers providing high-value solutions
And at the Mindset level, Lean Decision Quality® allows you to develop a sense of self-confidence and your potential as quickly and effectively as possible. It is like having a third system (the Empowerment System), which allows you to update the mindware of your logical hemisphere and develop, through practice, a new habit in our emotional and reptilian hemisphere (place of decisions).
Chart: The Lean Decision Quality® Empowerment System
With my Lean Decision Quality® for Future-Proof Organizations handbook, I want to really give everyone a methodology which can turn their personal and professional lives from ordinary to extraordinary, fostering a company evolution both from the strategic and productive points of view as well as promoting cooperation.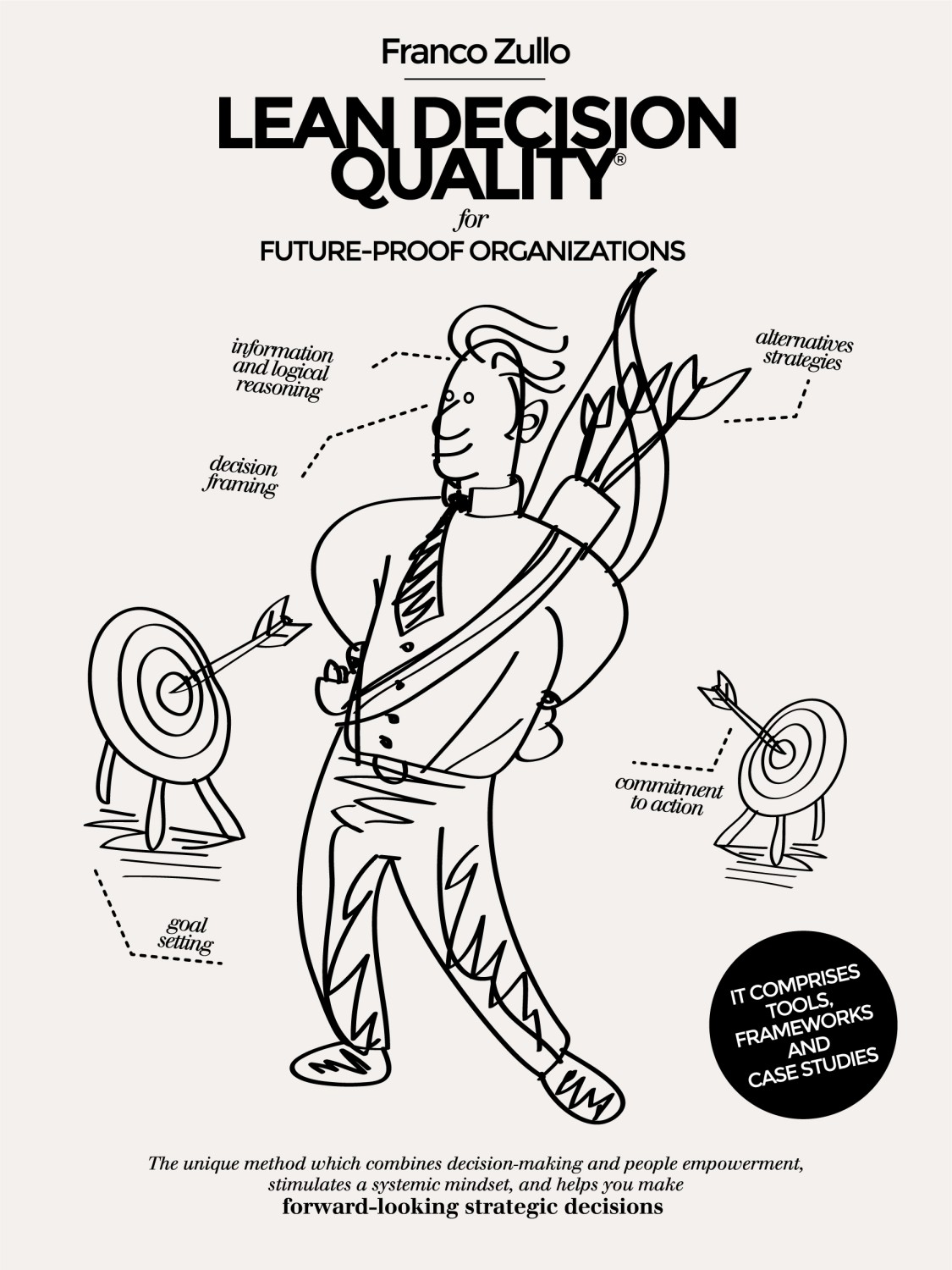 Why is this handbook different from the others?
1.    Because it is not just a handbook on decision-making strategies, it is a practical handbook with visual elements which helps you to reach your goal and actively involve your team, so that you have commitment, trust, respect and responsibility
2.    Because I am describing you a non-closed methodology you can easily blend with other methodologies and frameworks, if your projects is complex and need a multidisciplinary approach
3.    Because it is a method you can reproduce. Once you understand it, you can replicate it autonomously both in your professional and personal life
Having an everlasting company is the obsession of any businessperson and every leader.
Now you can have it too. Starting here.
You can buy the handbook in the best online libraries (read a preview of the book on amazon), and you can do it quickly here https://store.streetlib.com/it/search?q=9791220828215&sort=_score
10% of the proceeds will be donated to fund innovative teaching methods for Italian and international schools (the projects will be defined here http://www.stratego.coach/en/publications/
Welcome your feedback.
Thanks for the time you have dedicated to me.