When you buy a new car, your reasons are the most different: you need a more efficient model, you want to be more independent, you want to be "cool" and so on and so forth.
But before trusting your first instinct and decide to buy the car, you have to stop and ask yourself some questions:
Is it the right decision for you?
What are going to be the consequences?
Am I simply following an instinct?
Has someone else talked me into buying the car without really reflecting on it?
This example let us show you how the LDQ methodology can be easily applied in your everyday life. We are now going to examine this decision – which will inevitably force you to make a financial investment and will have  positive or negative consequences on your life – through the lens of Lean Decision Quality method.
Lean Decision Quality enables you to be more confident about what you are deciding and to gain the Maximum Realizable Value. The 5 steps are linked one to the other, like links in a chain, and the "key" to the best decision is the one hidden in the weakest link.
Let's now imagine you have to build a Ferrari: you choose the most powerful engine, the best-performing chassis, the best technology, the most sporty setting and then you add the brake system of a Fiat Panda car. Do you think it would be a quality decision for your Ferrari? Don't dismiss this example because making these macroscopic mistakes in a decision making process is easier than you think.
There is a simple solution, you just need to look closer and it already is in your hand… it is "the rule of the 5 steps".
By linking every finger to a step, you will reach a quality decision, an AFALRA Decision: Alignment, Frame, Alternative, Logical Reasoning, Action.
Let's begin!
Thumb: Lean DQ Alignment
This step enables you to align your goal by measuring it against the needs which constitute the base of your decision.
The first step is answering the following questions:
Will I solve my problem by buying a car?
Which is the real need I want to fulfill by buying a car?
What do I want to gain by buying a car? Be "cool", independent, moving comfortably, being efficient…
What are the trade-offs? For example: I want a family car and don't want to spend too much money but I still want a safe vehicle.
Index finger: Appropriate Frame
You create a context for your decision.
What am I going to do? Buy a new car
Why am I going to do it? Because I want to use it for our evenings out or to discover nearby places at weekends.
How will I know I made a successful decision? I will, if the car is really convenient for me.
How will I know I failed? I will, if I don't use the car often enough during the week and at weekends.
Then, will I make this decision alone or will I involve my partner? (And please don't let them only choose the color…)
Will I need to talk to friends or to other people? (that is a car salesman)?
What are the decision and the strategic information I need to achieve my goal?
Target group I belong to
Usage
Purchase option
Category
Investment per year
You now build a Strategy Table, where you can define the options for each strategic decision (target, usage, purchase option, …):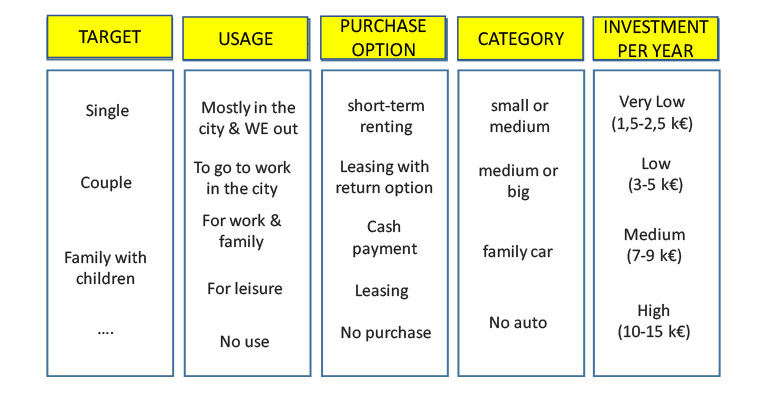 Middle finger: Strategic Alternatives
Through a creative Brainstorming process you create alternatives which have to satisfy the following requirements:
Being creative
Being doable
Being significantly different
Once you have your alternatives, you can choose one option for each strategic decision.
Do I buy a car to fulfill my need to move more comfortably?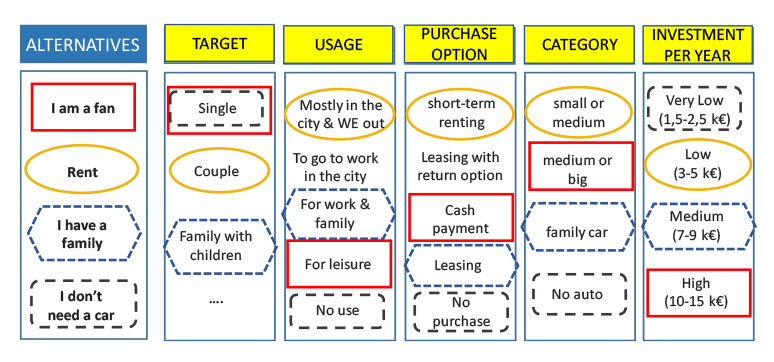 You will create a logical path for each alternative, highlighting the biggest uncertainties, the strong and weak points of each decision.
Alternative: I am a fan
The target is a single person, who mainly drives for leisure, wants/can buy paying cash or lease, chooses a medium/big car and wants to spend 10-15 k€ per year. There are no uncertainties, if they don't have a car accident (which would force them to buy a new car).
Strong points: I feel "cool"
Weak points: high investment
Alternative: renting
The target is a couple who use it to move around in the city and for the occasional outdoor WE. They take advantage of the car sharing system and commute and then rent the car when they want to go out for the WE. It can be a small-medium sized car and the annual budget is 3-5 k€. There are no specific uncertainties because they do not own the car and they do not have taxes/repairs linked issues.
Strong points: great flexibility, low investment
Weak points: there are none for the usage
Alternative: family
The target is a family with children using the car to go to work and to move around the city. Lease or cash purchase option for a comfortable and safe family-car. Investment is 10-15 k€ per year. There are no uncertainties.
Strong points: safety and flexibility
Weak points: medium/high investment
Alternative: no auto
The target is a single person who decides to take advantage of the public transportation system, cycles or takes taxis in and out of the city. They have a very low budget. The only uncertainty is produced when leaving the city.
Strong points: great flexibility, very low investment
Weak points: limited mobility when leaving the city
The alternatives you produced could be incomplete with regard to a specific person needs, but they must not be seen as compartmentalized classes, you can combine the options of each strategic decision to create a hybrid solution, closer to the decision maker's needs.
Ring finger: Information and Logical Reasoning
At this step you analyze the alternatives based on what you know and what you don't know of each alternative, and the logical reasoning which led you to one or the other:
I chose a cheap car which is ideal for me
I chose a car with a higher price but it is safer
I chose a car in my budget which enables me to be independent
I chose to lease a car when I need it and use it as an alternative to cycling, taking a taxi or using the public transportation system
The ring finger is the "faith finger" (even if we need now to quote John Belushi: "Everyone needs something to believe in … and I believe I'll have another beer" ), you must believe in and be confident about what you have chosen or, better, you have all the elements necessary to make a logical decision and believe in it. Another illuminating quote, by W. Edwards Deming, can be of help : "Without data, you're just another person with an opinion"
Little finger: Commitment to Action
Once you made a decision, you allocate money and buy/rent your car or you decide to have a great time out…
You can speed up, cycle or go have a glass of wine.
You choose your toy! Remember to be confident and coherent in deciding which toy.
Apply Lean Decision Quality method to your every decision – involving an investment – and you will save money!