To know how to create a Future-Proof organization we first need to analyze the context (VUCA) a company work in.
Indeed, globalization and digitization have transformed the reference framework (Volatile, Uncertain, Complex, Ambiguous), making organization business and leadership models more and more obsolete. Acting in this context a company gets more and more difficult gaining a competitive edge sustainable over time.
The consequence is that companies need now to transform themselves to thrive, we could sum this transformation up as " A group of mainly technological, cultural organizational, social, creative and management changes, whose aim is providing services and goods, creating experiences and making a great quantity of content available to develop new connection among people, places and things".
For an effective Transformation you need:
Vision and Mission clearly defined and shared
Strategic Direction
Internal Culture involving everyone while respecting and giving value to diversity and being part of an organization
External Culture focusing on real customers needs and involving the other external stakeholders (suppliers, partners…)
Collaborative and adaptive company structure
New leadership models
Innovation Culture
Digital Transformation is often misinterpreted and/or incorrectly implemented. We cannot define a website, an e-commerce or some social profiles as a digital transformation.
If it were so, by simply limiting our transformation to the tactic/operational field, paradoxically the Digital Transformation would be obsolete in 3/5 years and  organizations should have to enact a Robotic Transformation, a Humanoid Transformation in 10 years and a Martian Transformation (that is going to Mars) in 30/50 years.
For a transformation to be effective, it has to involve every level of an organization in order for it to become an adaptive structure, both in time and space, that is a Future-Proof Organization. This is why I chose thriving and not surviving.
And this is where it comes to mind the Antifragile idea by Nassim Nicholas Taleb, financial mathematician and philosopher from Lebanon, stating that organizations have to be like fluids, adapt to the various states (that is solid, liquid, and gaseous), to the various shapes, blurring boundaries to thrive over time. It is no accident that Charles Darwin said, a long time ago: "It is not the strongest of the species that survives, nor the most intelligent; it is the one most adaptable to change."
Surviving implies be a victim of the VUCA external environment, focusing on making something Better.
Thriving means, on the other hand, not being a victim of the external environment and focusing on making something Different.
Let's now delve deeper by first analyzing the Obstacles to the Creation of Exponential Value in an Organization and second the strategies to reach this Exponential Value.
OBSTACLES TO THE CREATION OF EXPONENTIAL VALUE IN AN ORGANIZATION
To make it easier to understand, we can schematize the organization using to circles: the inner one is the Human Sphere, the outer one is the Internal Environment and outside there is a third circle which is the External Environment where the organizations operates.
HUMAN SPHERE
LACK OF VISION & AWARENESS: Party or totally lacking these elements produces confusion, lack of direction,  sense of belonging, valuing what you are and what you do. All of this has consequences as an organization on "Why and for who I am here", on "what I want to be and become" and on "what my values are"; the same goes for the human sphere: why I do it and for who I do it and based on which values – that is why I wake up every morning and go to work, the sense of the self.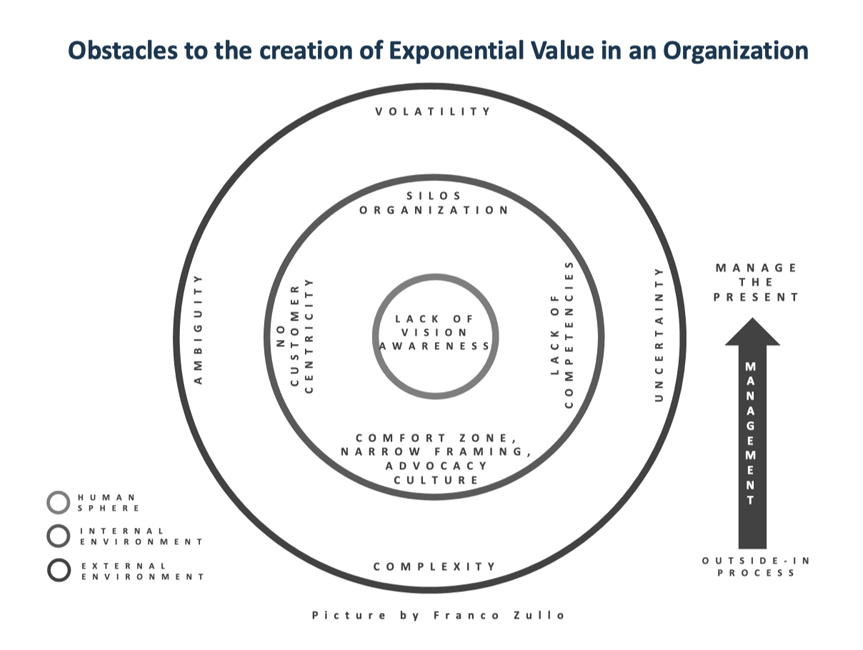 INTERNAL ENVIRONMENT
Characterized by:
NO COSTUMER CENTRICITY – the company is confident in its products and services, but they are often not developed from the real clients needs. A 2014 research by Simon-Kutcher & Partners has stated that 72% of products fails because they are not developed from real clients needs. And another study by McKinsey has found that 80% of managers think their product stands among its competitors but only 8% of clients agree on this
SILOS ORGANIZATION – decision are Top-Down and the organization suffers the decision taken instead of being an active part in the process. Divisions get stuck in their mindset unable to think about an overall collaborative and goal-oriented vision and this can really harm both the company culture and its performances. Multifunctional, multicultural and gender diversity is underdeveloped and not used to effectively solve problems
LACK OF COMPETENCIES – strategic and change management competencies are taught only to a small group due to their role and to the company budget. Moreover competencies are often not shared with the staff (Complex Problem Solving, Critical Thinking, Creativity, People Management, Coordinating with others, Emotional Intelligence, Judgement & Decision Making, Service Orientation, Negotiation, Cognitive Flexibility), as stated by the World Economic Forum, which smart organizations need to have by 2020 are not effectively and persistently widespread and used
PREVALENT CULTURE

people/organizations always working in their COMFORT ZONE, not experimenting anything new based on the "we've always done it this way" idea
NARROW FRAMING, in other words the tendency to simplify reality based on your own mindset and proudly carry on your ideas without opening to new ideas and/or different perspectives
ADVOCACY CULTURE, that is the belief that you can achieve quality decisions fostering a process that, from a single solution, through a lot of questions will take to approval. A culture where the ego prevails (over-confidence in your own and your company's capabilities) and there is a fear climate (command & control)
EXTERNAL ENVIRONMENT
The outer circle represents the external environment, the VUCA characterized by:
VOLATILY: or turbulence (that is market turbulence), a phenomenon which is getting more and more frequent now than in the past and that is sped up by digitization and globalization (that is an off-line supplier price fluctuation after a natural disaster)
UNCERTAINTY: characterized by lack of information on the specific situation we are analyzing and that could rapidly change, but we know the most probable causes and effects (that is the launch of a product by a competitor which risks posing a serious problem the market and the business)
COMPLEXITY: characterized by various connected parts and variables, where you have a limited knowledge of data (part is available, part can be predicted). However, in a complex situation it can be difficult gathering information, which could often block or overthrow the decision making process. Moreover, a dynamic complexity joins the factors at play, where causes and effects are distant both in space and time (that is a company taking its business to another Country with its own rules, prices, values and culture)
AMBIGUITY: an ambiguous challenge is really hard to face, because it is unknown, random, unclear. Ambiguity is the inability to precisely conceptualize a menace before it gets lethal (that is a startup choosing to work in an immature or emerging market, launching products which are out of their key competencies)
so, in a VUCA environment, what happens when some or all of the Internal Environment or Human Sphere conditions become reality?
The organization managing process will be OUTSIDE-IN, in other words you suffer the external environment, due to internal weaknesses, which have consequences on the organization and on the human sphere, the best you can do is, then: MANAGE THE PRESENT and focus on doing something better and settling for a 5-10% more (you are in a SURVIVING state).  
HOW TO CREATE EXPONENTIAL VALUE IN AN ORGANIZATION
Given the same external environment, let's now see how the other two elements in the organization evolve to create Value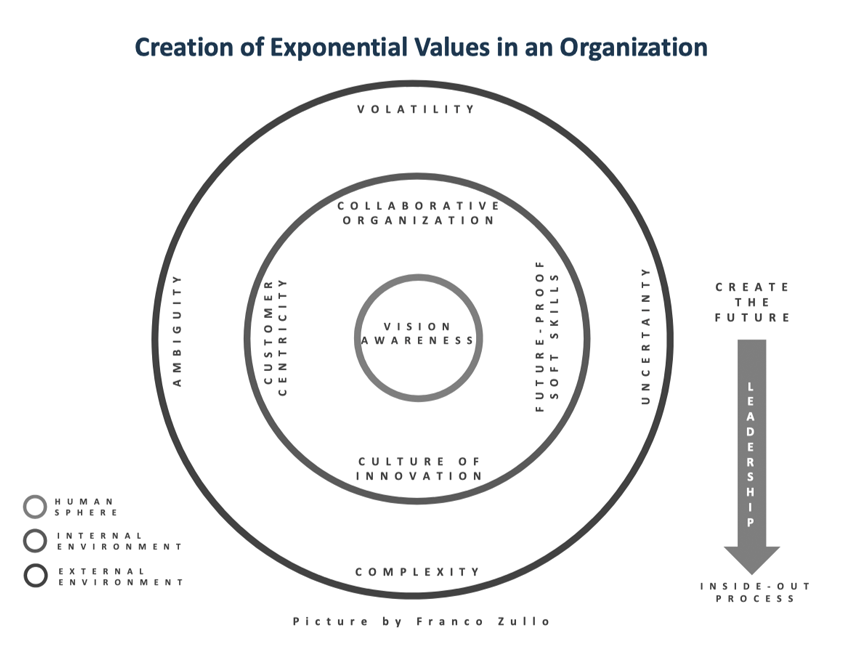 HUMAN SPHERE
You need VISION & AWARENESS
set yourself a Goal, a Why you are here and for Who and always remembering it, until it becomes your business mantra
create Awareness through a Culture based on Values, some of which are essential, that are: Trust, Respect and Responsibility. Respecting and boosting every human being to let their Talent emerge and create a sense of belonging. In a nutshell: be "Human-Centric"
INTERNAL ENVIRONMENT
The evolution of the internal environment is characterized by:
COSTUMER CENTRICITY, that is focusing on the real hidden clients needs, the trends.
COLLABORATIVE ORGANIZATION, that is favoring a Shared decision making processes, where the problem/opportunity is shared among the various divisions involved in the business goal, aiming at better decisions and drastically reducing projects' implementation. This shared model, characterized by trust, commitment, inter-function cooperation, enables to implement new leadership and entrepreneurship models in an organization and to give responsibility to everyone on any initiative at a global business level
FUTURE-PROOF SOFT SKILLS, that is developing the so called future-proof skills, as stated by the World Economic Forum, organizations need to have to compete and thrive
CULTURE OF INNOVATION developing new Mindsets

GETTING PEOPLE OUT OF THEIR COMFORT ZONE, to "effectively solve problems" using critical and lateral thinking
REDUCE NARROW FRAMING to enrich reality with new way of thinking and seeing problems, opening to new opportunities
CHANGE ADVOCACY CULTURE using structured and proven decision making processes, which enables you to involve interesting stakeholder, reducing biases, exploring new alternatives, gathering reliable supporting information, comparing the alternatives with their values and risks to choose the one which can give you the greatest value. Develop a critical spirit, cooperation and lateral thinking 
EXTERNAL ENVIRONMENT
When a company has a structure both at a Human Sphere and Internal Environment levels, VUCA can become an opportunity if:
organizations are Agile in allocating internal resources to increase resilience (VOLATILITY)
organizations are Able to gather information, cross-sector as well, create new opportunities and give a new meaning to things using creativity (UNCERTAINTY)
organizations are able to Adapt their internal logic to the external changes (COMPLEXITY)
organizations (AMBIGUITY)

check the various solutions and business models created by the alternatives to define the best strategy and business model to create value for every stakeholder.
Develop in their organization a stimulating culture and environment based on entrepreneurship and new leadership models
The transformation process of the Internal Environment and of the Human Sphere enables, then, to screen  the external environment, producing an INSIDE-OUT process, adapting (and here comes again the Antifragile idea) and indeed riding them to CREATE THE FUTURE. You can do this by focusing on making something different and aiming at a 10X Value (you are in a THRIVING state).
FUTURE-PROOF ORGANIZATIONS' FOCUS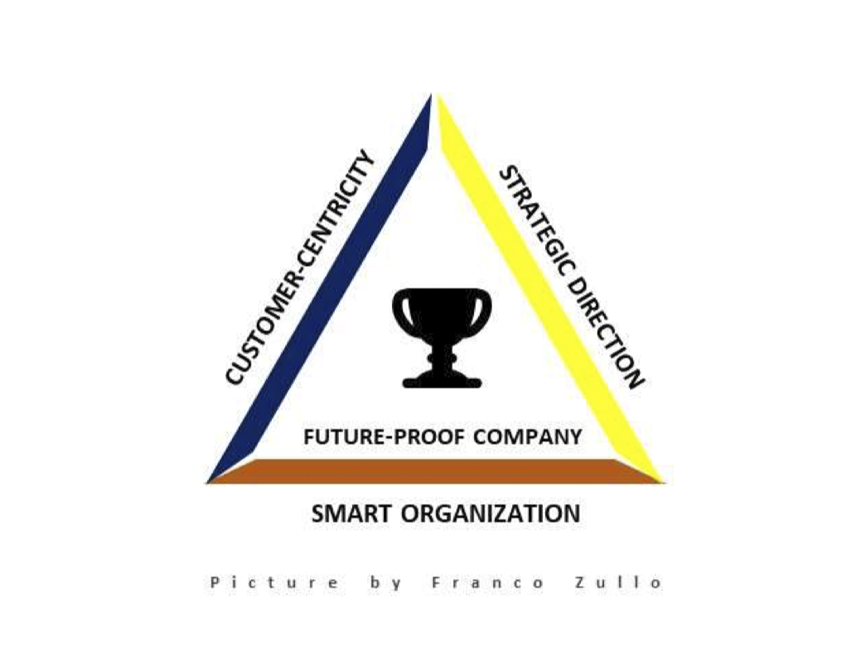 Creating a Future-Proof organization means pursuing three paths
Customer-Centricity: focus on real clients' needs
Strategic Direction: define a path which enables to create exponential value
Smart Organization: create a cooperative structure based on excellence, fostering multifunctional diversity, new leadership models and innovation culture
to
stay focused, coherent, resilient to future challenges, fostering a cooperative, sharing and innovative culture
overcome analytical and organization complexities, to design better strategies and business models to boost performances and create Exponential Value
Here you find a summary graph of Future-Proof organizations,  where the border of the Internal Environment are blurred so that they are more permeable to new ideas/opportunities (Innovation) and become more adaptive to External Environment.
And you? Are YOU up to the challenge?