Innovation and Digital Transformation are getting more and more trendy words in every media and organization.
We often link these words to aspects which, actually, are remote from their true meaning and the actual value they can produce. We must stop seeing Innovation as buying new technologically advanced equipment or Digital Transformation as opening a business social media profile.
First of all, Innovation and Digital Transformation mean changing your mindset and, as a consequence, changing the way people think and work. Technology, which is the final step, will lead to increased productivity, team cooperation, a wider spreading of products/services and to the creation of a Unique Experience for your Clients.
So, the questions you need to ask yourself is: are people/organizations open to Change to innovate and implement a Digital Transformation ?
There are a lot of people/organizations thinking they are open but then are proved the opposite.
The first step is define Change and how we can measure it.
Change starts when you have an Open Mind leading you to question yourself again and again each day. Here you are an abstract from a study carried out by Shane Snow on Open Mindedness, also defined as  cognitive flexibility. You can find the article here: http://www.shanesnow.com/articles/intellectual-humility#intellectual-humility-intro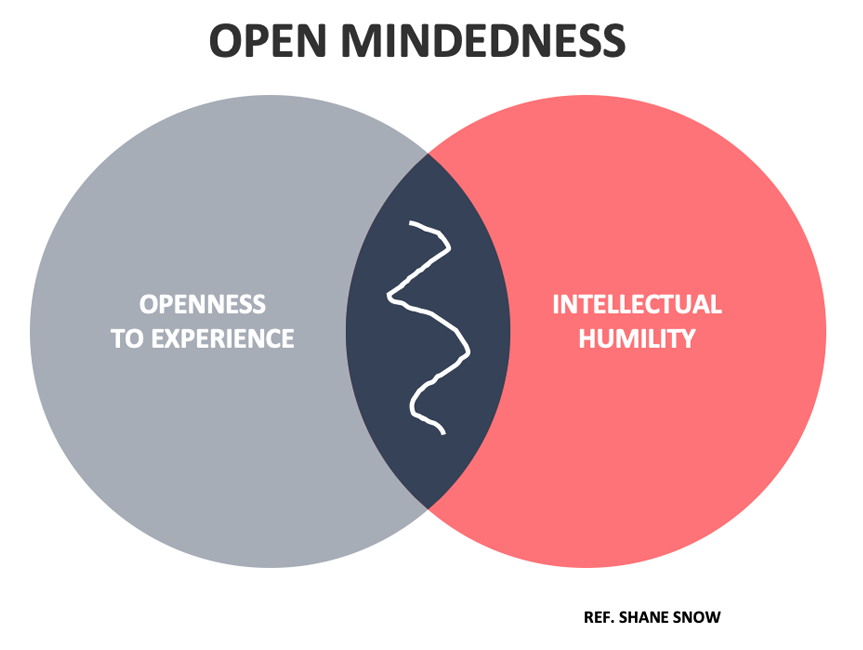 Shane says open mindedness sits at this intersection: Being willing and able to experience new things and Being willing and able to change because of them.
If openness to experience means you're willing to try pickle-flavored ice cream, intellectual humility means you're willing to admit you like it, even if you initially thought you wouldn't.
Shane combined the Pepperdine Intellectual Humility test and the Big 5 Openness to Experience test  and conducted a series of studies of thousands of American workers with it to find correlations between open-minded people and the way they live and work. Find here the test for challenging Yourself http://www.shanesnow.com/take-the-intellectual-humility-assessment
A person who scores high on both of these will be likely to listen to people, no matter who they are, and have a kind of Ben Franklin-like cognitive flexibility after listening (through sentence "I could be wrong, but…"Saying this put people at ease and helped them to take disagreements less personally. But it also helped person to psychologically prime herself to be open to new ideas.)
Intrigued by this study I did the Shane Snow test on the 5 factors of Open Mindedness(the combination of what psychologists call "Openness to Experience," and the four dimensions of "Intellectual Humility"), to understand if I'm really open and how I can improve myself. In the part related to intellectual humility, I got a score of 90 out of 110 and the one related to the opening to new experiences 0.9 / 1.0.
The average respondent scores between 79 and 82 out of 110 points possible. If you scored above this, that means you're generally more intellectually humble than the average person—though true intellectual humility means scoring high on all four factors. If you scored less than average, well, it means that you're more rooted in the surety of your own knowledge.
However, no matter how high you scored, there will always be areas in our lives where we will tend to act with less intellectual humility than others. For this reason, it's important to work on IH even if we score "high" in the general assessment. That's also why it's important to look at the individual factors that are connected to IH, and to work on each of them.
These are my personal test results on each component on a scale of 0 to 1:
Respect for others'viewpoints: 0.87
Lack of intellectual overconfidence: 0.77
Separating your ego from your intellect: 0.64
Being open to revising your viewpoints: 1
Openness to new experiences: 0.9
The average person scores around 0.75 on each of the factors. My goal is to work where I didn't get 1!
Now that you know your scores, the question everyone asks is, "How can I improve?"
The more intellectual humilitywe have, the better we can work with others who aren't like us, the more innovative problem solvers we can be, and the better people we can become. People high in IH pay more attention to evidence and are interested in the reasons why other people disagree with them, rather than just overcoming their opponents (here you have the effect of the cognitive bias Overconfidence, i.e. an excessive confidence people have in their abilities or those of their company and will be able to control the results).
But now let's delve deeper in what Openness to Experience and Intellectual Humility are
OPENNESS TO EXPERIENCE
Openness To Experience, or OTE is used to measure a personality characteristic (i.e if a candidate can fit in their company's culture )
But OTE only refers to your willingness to try something new. I like pickle flavored ice cream but this doesn't measure how willing you are to change your mind about pickle flavored ice cream.
Open-mindedness begins only once we've taken in the new experience or information. And philosophers say that humans have two ways of doing that:
The first is confirmatory thought, or "a one-sided attempt to rationalize a particular point of view."
The other is exploratory thought, or an "evenhanded consideration of alternative points of view."
You can be open to thinking about things while still considering them in a one-sided way—just engaging with other viewpoints so you can confirm your current thinking. That's not true open mindedness. (We all know that person who's willing to do things with no intention of changing their mind about them just to "prove"that they're right about what they think.)
Malcolm X was willing to debate his intellectual rivals—like leftist icon Bayard Rustin—with no intention of changing his own far-right views.
Malcolm was open to the experience of hearing another argument, but it took developing something else to get him to actually change his mind…Intellectual Humility.
INTELLECTUAL HUMILITY
Let's get to the details of Intellectual Humility. In 2016, professors from Pepperdine Universitybroke the concept of Intellectual Humility down into four components:
Having respect for other viewpoints
Not being intellectually overconfident
Separating one's ego from one's intellect
Willingness to revise one's own viewpoint
HAVING RESPECT FOR OTHER VIEWPOINTS
In other words, respect for other viewpoints includes:
Listening to viewpoints that are not your own without interrupting
Not disparaging or otherwise attacking the person behind any viewpoint, even if you don't agree
Treating the person or viewpoint with the same kind regard that you'd treat your own ideas or self
Let us remember that we are more willing to listen to the advice of people similar to us than those who are different from us
NOT BEING INTELLECTUALLY OVERCONFIDENT
Confidence is a crucial skill for living our best lives.
Too much confidence in our own way of thinking can lead us to closeourselves to alternative ways of thinking (and this is a typical characteristic of the experts)
Intellectual overconfidence means we're not able to learn.
Neuroscience is still trying to figure out confidence's mechanisms, and we're still learning about them. But what we do know is confidence is associated with rewards.Our brains feel rewarded when we turn out to be right about something. So when we're confident, our brains get ready to feel good about themselves.
"Our culture instills in us an aversion to make mistakes" and the more we win at something, the greater the possibility of getting stuck in our mental schemes, which will not help us when we need it.
Researchers call this cognitive entrenchment. Dr. Erik Dane of Rice University explains: "As one acquires domain expertise, one loses flexibility with regard to problem solving, adaptation, and creative idea generation."
People don't like to be wrongand there are many reasons for this. Among them:
it hurts
it lets others off the hook
it makes us appear weak
But perhaps most of all, we don't admit we're wrong because we don't think we're wrong.
To overcome this overconfidence, Shane Snow lists two possible ways:
"I could be wrong, but …" by Ben Franklin
"I do not know … yet": if you do not know something (which is human) or you are wrong about something (which is even more human), instead of feeling stupid, tell yourself you have an incomplete knowledge. "Yet" allows us the possibility of changing our minds (the way of thinking) without feeling bad about ourselves.
SEPARATING ONE'S EGO FROM ONE'S INTELLECT
Philosophy / metaphysics definition of ego: "a conscious thinking subject."
What we mean when we talk about the "bad"kind of ego: I think psychologist Dr. Scott Barry Kaufman's puts it well when he says ego is "that aspect of the self that has the incessant need to see itself in a positive light."
We tend to attach our beliefs to our identity (ego), which means it's psychologically painful to reconsider them. Questioning something that is core to your identity is like questioning your identity, yourself. And that's the worst.
Separating Ego from Intellect is about not making ideas about you. It's about not feeling threatened by disagreements, dissonance, or ambiguity. It means not making ideas personal
How do you fill the gap? Don't invoke identity when arguing or exploring ideas
We say, "I'm a Liberal"or "I'm a Republican."That's attaching our ego to our ideas, which means it will be painful to change our minds about them. Instead, say "I currently tend to side with the Republican platform on this issue."It takes longer, but it leaves you room for nuance, or to change without much ego pain.  with the question, "What do you think?"than with the question, "As a man, what do you think?"
WILLINGNESS TO REVISE ONE'S OWN VIEWPOINT
In other words, being away from our safe home turn makes our minds more receptive to rethinking our old ideas.
Traveling or seeing fiction develops our ability to review our points of view (debias Functional Fixedness) and this happens especially when we openly talk about a problem / opportunity.
There's a concept in psychology called "Balance Theory" that explains why we like or dislike people and things by association, and how travel/exchange opinion openly can help us change our minds about things that are connected to our identities.
Balance Theory says that our brains don't like inconsistency. So when something is out of balance, our brains adjust to put it back (often the inconsistency is due to cognitive bias that originate from stereotypes)
When we travel outside our environment or immerse ourselves in other working or industry contexts, our brains can begin to let go of barriers that prevent us from properly analyzing information for or against our previous beliefs
IN CONCLUSION, THERE CAN'T BE INNOVATION IF THERE IS NO MIND OPENNESS (OPENNESS TO CHANGE), FAILURE CULTURE, RESPECT CULTURE, AND TRUST.
I would like to cite on this matter Herman Hesse's Narcissus and Goldmund "We are sun and moon, dear friend; we are sea and land. It is not our purpose to become each other; it is to recognize each other, to learn to see the other and honor him for what he is: each the other's opposite and complement"
I wish more and more entrepreneurs, Managers, Executives, HR Managers will start working on mind openness, first at a personal level to make then a new company culture out of it if you really believe in Change, seen as a distinctive Value for your Organization, your Clients, your Community, the World.