Digital evolution has changed everything and has been having consequences both on production and on consumer habits. This gradual change has resulted in the need to radically rethink organization processes and frames which are at the base of the conception, design and implementation of any product and service as well as the distribution and communication strategies underlying their coming onto the market and the medium to long term promotion.
Against this backdrop, where a profound reflection in the economic, social and cultural fields is paramount, you now seek again a form of dialogue and exchange of opinion to build a reliable and sustainable system project. And, against this same backdrop, Design Thinking recreates opportunities for any companies and institutions.
This is something we don't only experiment when dealing with production systems and markets; Design Thinking is slowly becoming a fundamental element at all stages of education: from Business Schools to Universities and primary education, where children start developing and strengthening their skills and a "modus operandi" they will later apply when studying and working.
Just to give an example we can cite the Teachers Toolkit developed by IDEO, greatly influential company specialized in Product Design. (link https://www.ideo.com/post/design-thinking-for-educators).
First of all, let's try and explain what "Design Thinking" is: it is a specific approach to Innovation, implemented by companies to solve problems and/or seize new opportunities; it is not a method which focuses solely on product/service aesthetics, structure, and design but which aims at building a journey, a customer-oriented experience.
We could summarize it as the pool of knowledge, mindset and tools guiding the design process to create a great added value, in terms of quality and results, to any business.
Design Thinking is based on the ability to integrate the various creative attitudes (divergent thinking) in a collaborative and multidisciplinary environment to create alternatives and exponential value, while analytical skills (convergent thinking) are often backed by quality methods and techniques. The resulting approach to problems enables to identify the most suitable solution, makes it easier taking strategic decision and, consequently, reduces risks while enhancing effectiveness by producing significant results in terms of company growth.
Let's now delve deeper to better understand the features of this approach.
Generally, companies defining their strategy either rely on big data which are, in fact, useless because they don't really address future clients needs, or make long shots following their instinct instead of putting into practice a Design Thinking process, a process which would enable the creation of a strategy to avoid such mistakes by taking advantage of design-derived tools to develop and check creative ideas (research, definition, development and delivery). This approach is strong because it aims at giving a sociological, cultural, emotional context to the choice made, focusing on the real people tendencies and their behaviour (either spectators or end users).
The goal of Design Thinking is enabling the identification of an innovative solution to a problem/opportunity which satisfies 3 core criteria: desirability (by the market or the actors), feasibility (technology or organization), and viability:
Desirability: empathize with clients, turning their needs and desires into your own. The aim of this phase is making clients see what they could need and not trying to convince them "the product/service is useful". Look and ask questions about their behaviour (empathy mapping).
Feasibility: identify themes and models, through observation and field activities, trying to build relationships and deepening insights. Once the process is finished, you explore the product/service ideas and test them through iterative prototyping and quick experimentation to check how consumer react, adjusting the product, its price, or positioning.
Viability: define the winning solution, in terms of sustainability and profitability, identifying any activity or resource the company will actually have to produce to communicate, distribute and deliver this solution.
The Design Thinking process helps and encourages Innovation inside any company, because innovation requires three main elements: technology, business and client needs.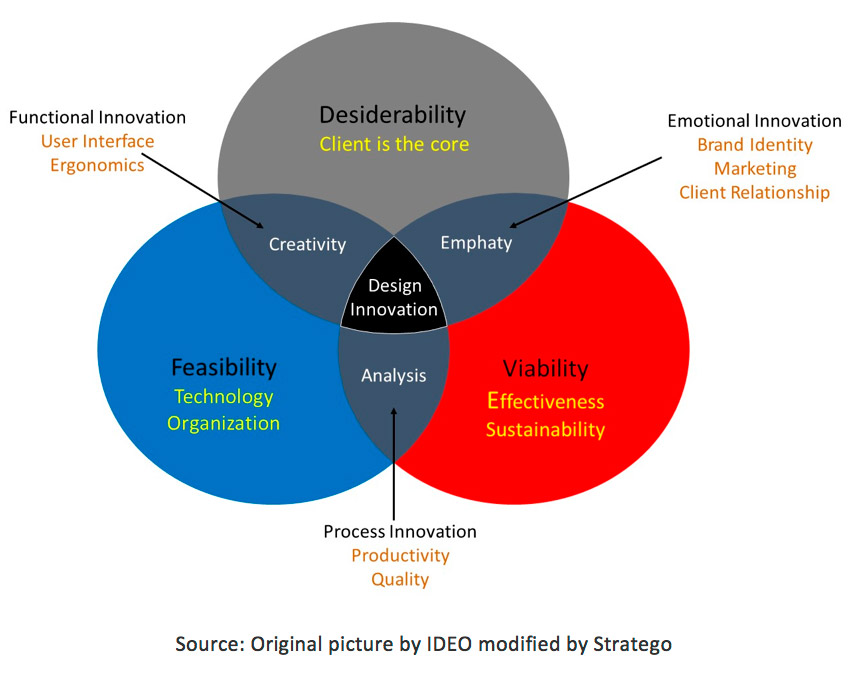 Tim Brown, CEO and President of IDEO, defines Design Thinking as:
a discipline that uses the designer's sensibility and methods to match people's needs with what is technologically feasible and what a viable business strategy can convert into customer value and market opportunity. Thinking like a designer can transform the way you develop products, services, processes… and your strategy.
it is scalable and can be applied incrementally to improve existing ideas (such as how a service is delivered or how a product performs for the user) or it can be applied radically to create disruptive solutions that meet the needs of people in entirely new ways.
Let's take Apple as an example, Steve Jobs' strategy, based on the implementation of the Design Thinking goals to the definition of a product, is all within the idea behind the motto "Think Different":
Focus on user needs rather than on the company business
Establish an empathetic relationship between users and Apple products
Focus on design rather than on product engineering, because designers could evaluate both form and function of a product design
Create simple products to satisfy a user needs instead of complicated and difficult to use products
"Think Different" invites consumers to see beyond and, at the same time, it encourages self-reflection in the producer.
Design Thinking inside a company enables the discovery of new market opportunities and to guide clients' problems and desires by creating innovative and effective offers. Thanks to its processes and tools, it enables you to optimize your available resources, either time, money, or people involved. It also fosters a positive and proactive environment, and develops a sense of belonging inside the company.
Design Thinking helps in developing decision making processes, as well as the quality of the made decisions. It is a fundamental help for decision makers when they have to make vital decisions for their company, while reducing risks.
Nowadays, the designing process is still trapped inside the "little creative room" in many companies, a room where designers are not actively and effectively involved in developing the company business, since the project is seen more as a tool than as a strategy. Design-oriented companies, like Apple, Microsoft, IKEA, Alessi, and Olivetti (whose founder had seen this truth many years before anyone else) have been able to integrate the design function at the executive body level, to make strategic decision relevant for the future of the company.
It is fundamental, in English and American companies, to understand and share how you get to
the conception of a project
well balanced solutions and important strategic decisions
the definition of a solid foundation which allows you to invest money
In Italy, this is a mindset which is slowly finding its space, because there are very few people who can really see its potential. There are few companies and freelancers treasuring this idea and there are many other keeping on seeing the Design-System as a value to attribute to an image (literally to a "picture" and not to the values linked to the brand identity) and not to the content.
Let's now see the differences between a Classic Design approach and Design Thinking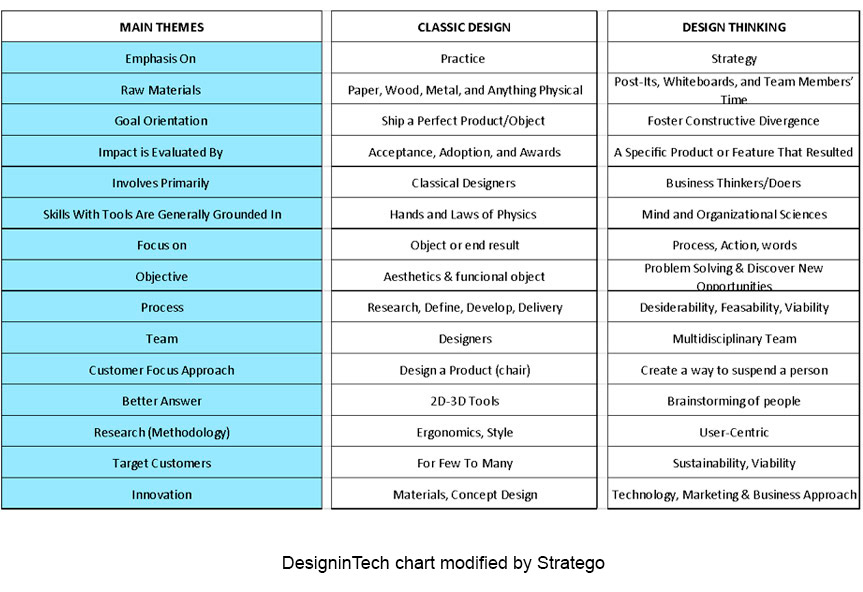 The Design Thinking process has been defined using various models: among the others Stanford D. School,  IDEO, Hasso Plattner Institute, Double-Diamond, Rotman. Models differ in approach, number and relationship among the various steps, the size of the company, the complexity of the project, but they all share the same strategy used to create a user-centric process.
Stratego uses Lean Decision Quality®, derived from Stanford University Decision Quality process, to create another Design Thinking model: the Strategic Design Thinking.
Strategic Design Thinking is made up of 5 phases: Inspiration, Framing, Ideation, Evaluation and Implementation.
Inspiration phase is the problem/opportunity which triggers the search for a solution; during Framing phase you define your real strategic goal, the processes and the people to involve (decision makers, multidisciplinary team) and those influencing the goal; Ideation is the core of the developing process where you define your idea in more details, you create prototypes and test them while creating alternatives, using a creative process; Evaluation consists of the tools and analytical techniques allowing the evaluation of the effectiveness and profitability of a solution and helps decision makers making decisions; the Implementation phase is the last step where the solution meets the real world. This process is where you define the real problems, the right questions to ask, and where you create many more ideas and where you choose the best answers.
1 – Inspiration spirit and empathy stage
You start by framing your problem/opportunity (e.g. the definition of a product/service in a specific market using a given technology) and then define a business goal you have to align with the company identity & strategy, defining its coherence and checking whether it is the real problem/opportunity.
Then the exploration, by those who will be part of the Project Team, begins. The initial field investigation frames the project, the ideal target user, the different buyer behaviours, and how consumer trends influence the company choices.
It is now time to focus and connect with the end users in their environment to know the details of their experience. Designers/UX Designers approach potential users through empathy, trying to understand what they could need, what makes their lives easier and more fun, what is technologically useful and more usable, identifying possible buyer behaviours.
You are not only making an easier and more ergonomic solution, you are understanding people, how and why they do things, their physical and emotional needs, what really matters to them. This enables you to expand the initial solution and to enrich it. Conventional research tools, like focus groups and surveys, can be useful to gather hints on how to incrementally improve the product/service, but they don't usually produce a great added value, because these tools simply ask people what they want. Henry Ford understood this truth long ago when he said: "If I'd asked my customers what they wanted, they'd have said 'a faster horse'. And no one would have said a car."
2 – Framing: Project Team and strategic decisions definition
During this phase you define your strategic goals, the scope and dimension of the project, its frame, influenced functions, processes, Project Team, Analyst Team, and Project Leader. Analyst Team can as well be external.
3 – Ideation: creativity (diverging thinking) helps in producing high quality alternatives starting from the client needs
The new brief which has been elaborated at step 1 is used as a starting point to define strategic decisions. The Multidisciplinary Project Team, through organized brainstorming, produces creative, doable and significantly different alternatives.
No idea must be judged at this stage and this encourages team members to produce as many ideas as possible and to explore new alternatives. Each team member must possess specific skills which allow him/her to contribute to the outcome in a tangible way and to empathize with people. This attitude is seen as openness, curiosity, optimism, a tendency toward learning by doing, and experimentation.
The creation of innovative ideas is greatly influenced by company culture and is based on 3 features: open-minded collaboration, courage and belief. Open-mindedness refers to the idea of being open and accept new ideas and contributions. Courage is important because it allows you to face failure, because innovative ideas are characterized by a great deal of risk. Lastly, belief is the mind-set which enables you to carry on a project or idea even when there are constraints and problems.
Some alternatives are discarded because they are not doable or not deemed valuable, others move on to the evaluation and comparison step, through the Strategy Table creative tool. Now a validation process begins: the description of the risks, strong points and weak points of each alternative. This enables the exploration and identification of the solutions generating the most added value.
4 – Evaluation: analysis & synthesis (convergent thinking) at the service of decision makers
First, after gathering a lot of ideas, Team Analyst, coordinated by the Project Leader, analyses the different alternatives through analysis and synthesis tools and compare their values (desirability, profitability) and risks using deterministic and probabilistic tools and techniques. They then choose those which could generate solutions or opportunities for change. The best solutions are once again analyzed, prototyped and tested by the Project Team, to gather other information.
Prototypes help gathering feedback and enhance the idea. There is a famous quote by Dennis Boyle, IDEO Partner: "If a picture is worth a thousand words, a prototype is worth a thousand meetings". Prototypes speed up the innovation process because they allow you to understand strong and weak points of the new solutions and to reduce organization costs. Prototyping is especially important for those products and services meant for developing Countries where lacking infrastructures, retail chains, communication systems, literacy and other fundamental elements often makes it difficult to design new products and services.
The alternatives, enriched by these new information addressing unsatisfied needs, are re-examined by the Team Analyst to choose the best solution (alternative), thus allowing the design conception process to continue to get to the final goals. The solution is then shared with all those taking part in the process and offered to the Decision Makers.
5 – Implementation of the solution and pilot project
The last phase consists in defining a strategic plan and in implementing a concrete action plan. Decision makers commit to the allocation of the human and financial resources needed to implement the project. If the selected solution includes considerable investments, a pilot project can be a good starting point to help field testing the idea and to reduce investment-related risks.
Lean Decision Quality benefits for Design Thinking
Lean Decision Quality method, derived from Stanford University Decision Quality, aims exactly at helping organizations to make quality decisions and maximize a company value; it helps the Design Thinking managing methodology and exponentially increases the ability of any organization to make effective and profitable decisions, creating sharing and "well-being" for each stakeholder, internal and external.
The benefits of Strategic Design Thinking are:
Ongoing commitment and engagement in Decision Makers and inside the Project Team
Better decision making processes and decision quality
Research of a solution's greatest maximum value
Greater clients empathy -> products and services
A method which has been used and field tested for more than 40 years allows you to have valuable insights to make decisions coherently and confidently (evaluating values and risks)
It fosters a proactive and positive environment and it develops a sense of belonging inside the company
It greatly reduces the time needed to get from the decision to the implementation of the project thanks to Lean Decision Quality® process
It allows the development of strategic skills, like Critical Thinking, Problem Solving, Decision-Making, Coordinating with Others which is the difference making the difference in a Design-Oriented company
You get these results by teaching decision makers and team members how to develop creative thinking skills, like designers do, and how to approach problems to find a solution by being inspired by the analytical method and using Lean Decision Quality® innovative tools.
Culture change and the definition of new decision making processes enable you to use the Strategic Design Thinking with any kind of problem, either in strategy, organization, new product/service development, and it generates excellent results when you need to face complex problems:
Company & Brand Strategy
Company & Brand Positioning
Strategic Product Innovation & Management
Business Model Innovation
Change Management
Merge & Acquisition
Increase Profit Margins
Reduce Investment Risks
Start-up Venture
When Design becomes Strategic even a company which makes bottled water and implements Design Thinking becomes Design-Oriented.