You are here: What We Do / Future-Proof Sprint
FUTURE-PROOF SPRINT
The goals: identify and define strategic directions for business transformation, generate mastery in people and confidence in the future

The Future-Proof Sprints enables Organizations always to be one step ahead, look at new horizons, and implement new ways of doing business.
THE TWO MAIN PROMISES OF STRATEGO'S FUTURE-PROOF SPRINT ARE:
Starting with the definition of a crystal-clear goal and arriving at the end of the journey with a well-defined strategy and a solution already tested by potential users/customers to turn it into an operational plan
Working with a structured process to evolve the participants' Mindset to raise awareness of their own and others' means and thus accelerate performance, productivity and systemic collaboration
FEATURES OF THE FUTURE-PROOF SPRINT
| | |
| --- | --- |
| Target: | Medium-Large Enterprise, Corporate |
| Participants: | 1-5 teams at the same time |
| Team composition: | 1-2 Decision-Makers; 5-7 Dream Team members |
| Duration: | 100 hours in 10 weeks |
| Commitment Time: | ~ 6 days Decision-Makers, ~ 11 days + ~ 7 days extra Dream Team |
| Lessons Mode: | Cycle of Company Meetings + use of Strategic Collaborative Platform |
| Goals: | Strategic and Tactical Decisions |
| Possible topics: | Change of strategy and/or business model; devising new initiatives; seizing the difficulties to rethink..; how to increase profitability, sales and/or eco-sustainable impact; how to turn products into unique experiences - product for purpose- for customers; how to effectively integrate Sustainability at the level of Culture and Business Strategy |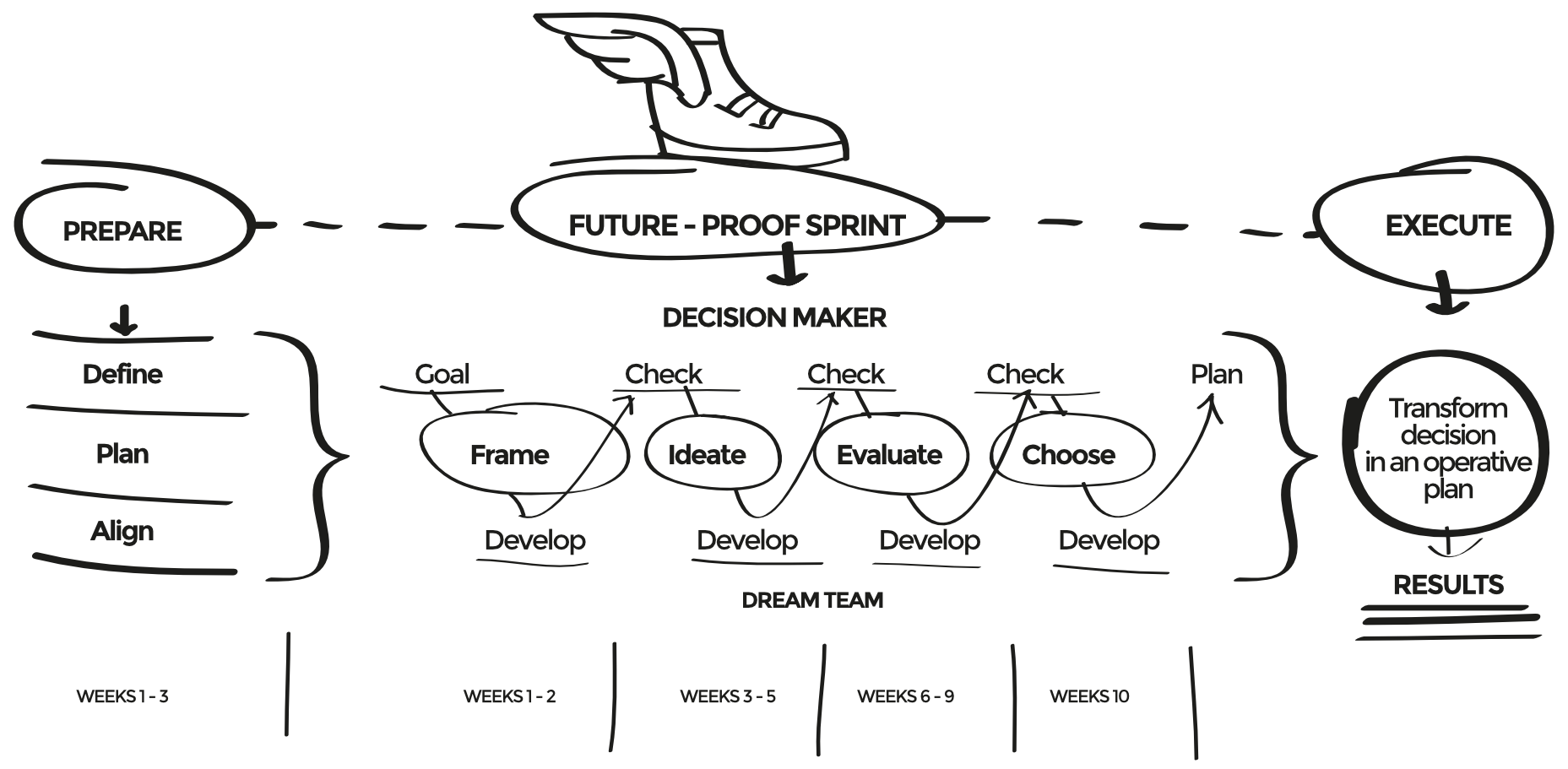 Preparation for the Future-Proof Sprint lasts for 1 to 3 weeks.
At this stage, Stratego Strategic Guides meet with Leaders to share objectives and results they want to achieve from the Sprint route.
A process is designed with the Leaders that runs parallel with normal operations and involves the most suitable people (Decision-makers and Dream Team).
All strategic activities are planned, based on objectives, so that participants can be more focused, effective and productive throughout the entire process.
An alignment phase follows, through a kick-off meeting, attended by all those who are directly involved in the Future-Proof Sprint Program (sponsor, decision-maker, dream team, main implementer) and/or division managers, for:
align the Organization on a shared goal
understanding the methodological approach – people, culture, method
The implementation phase of the Future-Proof Sprint lasts 10 weeks divided into 100 hours.
It's a training mix – 20% of the time is used by our Strategic Guides to transfer content in short bits (instructions, reflections and impact) – and 80% is to work on the defined goal, using framework, tools and Canvas of the Lean Decision Quality® and other frameworks, easily integrable, if the complexity of the project requires multidisciplinarity.
The Strategic Guides will support the Dream Team step-by-step from the goal to make a quality decision, to
transform the existing business or explore new initiatives
experiment and learn new ways of thinking, deciding, behaving and working.
At the end of each phase, a meeting called Check-Point between Decision-maker and Dream Team follows to validate the development and measure the quality obtained step by step. We work in the classroom and/or on a collaborative platform with the Stratego method canvas to facilitate understanding and direction.
Frame
The Dream Teams explore the market, trends, business models of different sectors, competitors to understand risks and opportunities in these two weeks; analyze the potential target, set the goal and define its boundaries, the directions, scope and extent of the project. And finally, they define who the main internal and external stakeholders are to be involved and their impact, in terms of level and time of involvement.
Ideate
The Dream Teams are focused on creating new possibilities – new scenarios – in these three weeks, through brainstorming sessions, compared to the initial idea, on assessing whether the initial idea is the right one or to find new ways to reduce risks and increase the chances of success.
Evaluate
The Dream Team collects reliable information on the selected alternatives in these 4 weeks, followed by an analysis and synthesis process, always assisted by our Strategic Guides, using tools and deterministic techniques, to compare alternatives with their values (attractiveness, profitability, scalability and sustainable impact) and risks.
LOOP Ideate – Evaluation
The best choices are again examined, prototyped and tested in the field, where further information will be collected. The alternatives, enriched with new information on unmet needs, are re-examined to choose the best (option) solution, allowing the evaluation process to continue to achieve the objectives set.
Choose
This week, the Dream Team prepares the final presentation to be presented in plenary to decision-makers, sponsors, and heads of the Strategic and Operational division for the final go/no-go.
An operational plan will start immediately to make the approved initiatives already previously shared with the operating divisions ready to market.
Enable your organization to:
Go beyond expected goals through grounding multi-stakeholder co-creation projects to – maximizing investment value, reducing risks
Accelerate performance, productivity and systemic collaboration
Develop the ability to replicate the process on future strategic transformation initiatives, to turn your organization into a lifelong learning environment
Immediately translate the business plan originated during the Sprint into an operational plan, without waiting for incubations or further approvals
After participating in one of the Experiential Transformation Journey, you will have a comprehensive understanding of the Stratego method, a new Awareness, along with practical guidelines on how to effectively apply them every day and provide consistent and tangible results. Your participation is also an opportunity to instruct your colleagues to become future leaders.
DOES YOUR COMPANY MANAGE THE PRESENT OR CREATE THE FUTURE? DO YOU FEEL LIKE A FUTURE-PROOF MANAGER?