Biases are non-conscious drivers — cognitive quirks — that influence how people see the world. They appear to be universal in most of humanity, perhaps hardwired into the brain as part of our genetic or cultural heritage, and they exert their influence outside conscious awareness.  Everything you do, either going shopping, talking or making decisions, you find biases at work.
And bear in mind that when you talk about biases you don't have to limit your ideas to the negative meaning we commonly attribute to the word.
On the whole, biases are useful and adaptive. They enable you to make quick and efficient judgments and decisions with minimal cognitive effort. They are at the base of what we commonly identify as "intuition", that is an experienced processed by the brain.
When you have to make a decision which you can't base on Intuition but which needs information to be collected and analyzed, biases risk limiting the research/collection of such information and inhibit you from evaluating valuable alternatives.
In these cases most people feel quite confident about the decisions they are making, but we often leave more than half of the value (in terms of opportunity) when making any decision. More so when the decision is unique (no alternatives have been explored) and when results are not certain (that is our decisions have an impact on the future).
Researchers say most people evaluate their decisions giving them an 8 out of 10. and based on our experience we can confirm this values: at a closer inspection, decision-makers admit that various aspects of their decisions were overlooked or underdeveloped and this lead to sub-par decisions.
To make better decisions in the real world, we need to start by embracing our true nature.
Indeed, it has been widely proved in the past 30-40 years and by various psychologists – Amos Tversky and Daniel Kahneman among others – that when a person has to make a decision in an uncertain situation they will mostly use an "intuitive thought" resorting to heuristics, that is to mental shortcuts deriving from our evolution, which lead to biases and to wrong decisions, rather than taking advantage of refined rational processes.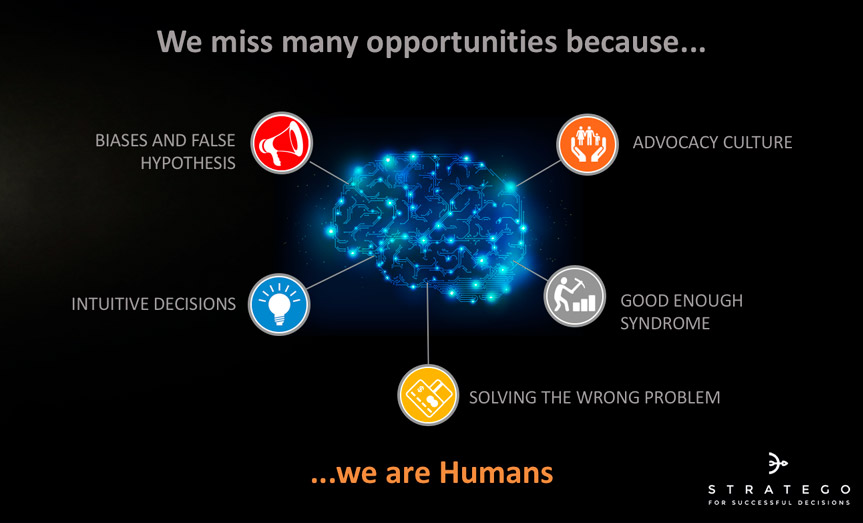 We can't make quality decisions by intuition only. The decision is often based on irrelevant, non-reliable or inadequate information.
We rely on advocacy culture and presume that we reached a quality deal, excluding a priori the other alternatives. We don't really know what we lost
We don't look for the greatest realizable value, because we are used to the "good enough syndrome" and stop at the first, or the second, option we are provided
We address the problem in a wrong way and end up facing the wrong problem
Biases and false hypothesis subvert rational and analytical thinking
Cognitive biases take shape unconsciously in our mind and derives from the information available (our brain cannot process every piece of information but filters) and Motivational biases, when we are aware of what is going on around us, come from the divide between what we truly believe in our mind and what we say.
The main cognitive biases with a significant impact on the decisions organizations/decision-makers make every day can be divided into 4 categories and there exist debias techniques to reduce, even greatly, these prejudices:
OVERCONFIDENCE
It leads people to ignoring contradictory information, making them more confident. For example: we are sure we have a winning strategy this year even if we are still doing the same things.
Debias technique
Limit the effects of overconfidence by forcing decision-makers to take into account downside risks previously dismissed or underestimated.
Examples of such techniques include systematic use of a devil's advocate or a "premortem" state simulation – the person imagine a future where their decision failed and imagine what went wrong and why.
CONFIRMATION BIAS
It is our innate tendency to value more a piece of information when it is coherent with our belief system, our hypothesis and recent experiences and to reject those which are contradictory.
For example: when you bring together a group of people sharing experiences and goals, usually these people end up telling stories, which are generally favorable. A study by McKinsey showed that 80% of managers think their product stand out but only 8% of clients agree.
Debias technique
Confirmation biases' dangers can be diminished by encouraging decision-makers to take into account different points of view.
For example: organizing a formal scenario planning exercise, expanding the range of hypothesis in a plan, or even a war game where decision-makers pretend to be their competitors. A study by McKinsey on decisions linked to investments showed that when a company uses a range of debias techniques, the investment return increases greatly.
STABILITY BIAS (RISK AVERSION, ANCHORING, SUNK COST, STATUS QUO)
Risk Aversion
Most of the typical risk aversion linked to small investments can be attributed to the combination of two well-documented behavioral biases. The first is Loss Aversion, when people fear loss more than they value corresponding gains. The second is Narrow framing, when people evaluate possible risks as if there were one only possible result – like tossing a coin once – instead of seeing them as part of a bigger result portfolio – like tossing 50 coins (Daniel Kahneman won a Nobel Prize in Economy in 2002 thanks to this research)
Debias technique
Organizations suffering risk aversion often dismiss interesting projects before being officially offered. To encourage managers and senior executives to explore innovative ideas beyond their comfort zone, they could ask their staff on a regular basis:
project ideas which are risky but have great potential in terms of income
investment advice accompanied by a riskier version of the same project with either an increase or an alternative
projects with a series of scenarios or results including both failing and greater success. This will allow those in charge of evaluating the project to better understand the potential value and the risk factors
Anchoring
The decisive impact the first idea or the first figures has on the following strategic debate. (For example: last year figures are an implicit anchor but a powerful one when revising your budget).
Debias technique
To de-anchor people you evaluate both best and worst case scenarios
Sunk-cost fallacy
These are all the past investments which are no longer recoverable. Insisting on a business instead of giving it up.
Debias technique
According to McKinsey, it seems promising to drastically reduce or reset the budget. Companies use this approach only when they are facing serious problems.
Status Quo
Preferring your comfort zone when there are no external stimuli
Debias technique
To help people/organizations shaking up their situation you can establish unreachable goals which have to be reached by "business as usual". An alternative can be starting by reducing each business unit or division's budget by a fixed percentage (10-15% for example). The hard decisions deriving from this make it easier to redistribute resources among more precious opportunities. Last, more demanding budget allocations on a more granular level can help companies redefine their investments.
SOCIAL INFLUENCE (GROUPTHINK)
Social biases are sometimes seen as part of the company policy, but they really are rooted human tendencies. Even when there is nothing to win or lose, we tend to comply with the dominant group opinion we belong to (and that of our leader). Many organizations make this even worse because of the strong company culture and incentives to comply. The lack of disagreement is a big red flag.
Groupthink: when we are used to think and make decisions as a group and this deters creativity or individual responsibility.
Debias technique
Listen to different opinions. A real debate requires decision-makers coming from different backgrounds and with different personalities, a trustful environment and a culture which disembodies discussions.
THE SOLUTION
Individual cognitive effort is not enough. You have to cultivate an organization-wide culture in which people continually remind one another that the brain's default setting is egocentric, that they will sometimes get stuck in a belief that their experience and perception of reality is the only objective truth, and that better decisions will come from stepping back to seek out a wider variety of perspectives (alternatives) and views.
YOU MUST NOT LET BIASES INFLUENCE DECISIONS, THAT'S WHY YOU NEED TO DESIGN PRACTICES AND PROCESSES IN ADVANCE , BECAUSE BY REDUCING THE UNHELPFUL BIASES THAT ARE AT THE HEART OF MANY ORGANIZATIONAL CHALLENGES TODAY, NOT ONLY DO YOU REDUCE THE RISK OF CATASTROPHIC LOSS — YOU REDEFINE WHAT IT MEANS FOR AN ORGANIZATION TO WIN.
This is #LeanDecisionQuality as well