This article is inspired by the latest trend in TV ads. National and international companies, widely recognized as "mass" producers with an "industrial" level of quality to their product range, are now diversifying by adding "high quality" products.
Examples can be made in any field: from fast fashion brands offering "tailored" garments, pasta producers launching their "special selection" ranges, to chicken farms owners diversifying their product line with "free range" organic chickens, which are grown outdoor and without antibiotics.
This choice can cause a "double edged sword" kind of communication and final consumer can read a different message between the lines:
you gave me low quality clothes made in another Country before and now you offer a high quality customized garment
you made me eat a low quality pasta before and now you offer me a "special selection" product
you made me eat caged chicken before and now you offer me a free-range chicken as flavorful as if I have grown it myself
There are a lot of hidden messages, subtexts running through the mind of consumers and that, maybe, were not given the proper attention by producers:
Are you reliable? Who can guarantee you really make quality products?
Couldn't you give me this kind of product before? What have you been offering me?
Why do I have to buy your products when there are other companies which have been making the highest quality products and are widely recognized for them? I'd rather spend more money…
We are not going to analyze what lies beneath such decisions, out of fairness, because we don't have enough elements to base our reasoning on. Doubts are nonetheless multiplying but Lean DQ method can help, making us reflect on how we can be more confident and coherent with our strategic decisions and gain more than what we wished for.
We refer to company positioning here and, as a consequence, on brand positioning, that is the marketing strategy to implement in order to have your brand inside the mind of potential costumers and be in a higher position than competitors, in other words be "the first brand on consumers mind".
Brand positioning depends on company long term goals:
Be a leader in the free-range chicken market
Be a leader in the chicken farming field
Be a leader from quality point of view…
Be the experts on…
Let's stick to the chicken farming company example and apply the 5 steps of Lean Decision Quality to its business goal: diversify its production to improve profitability (we suppose this is the real business goal).
First Step: Business goal and business strategy/identity alignment
Is our business goal our real goal or are we simply following competitors? What are the values we want to obtain from this decision and what the trade-offs? Do I have the right structure and the right company culture to implement such product?
Once coherence is assessed, the second questions to ask is: Do l sell this new product under my main brand name or do I create a new brand?
This sounds a trivial question but it really is not. This strategic choice has an impact on your company future and on the values/trade-offs it will produce.
Second Step: build an appropriate frame
Vision Statement:
What am I going to do? A: diversify production and improve profitability
Why am I doing it? A: because there are a lot of companies in my field which are expanding a lot, there is a greater profitability and trend analysis supports this
How will I know if I am successful? A: if I am able to open new sale channels and my company if perceived as a quality business
How can I fail? A: if I don't find enough sale channels for my products and my company is not perceived as a quality company
Who do I share my goal with? Who do I involve in this decision? A: definitely people from my company and external experts.
What are the important strategic decisions I have to make for my business goal?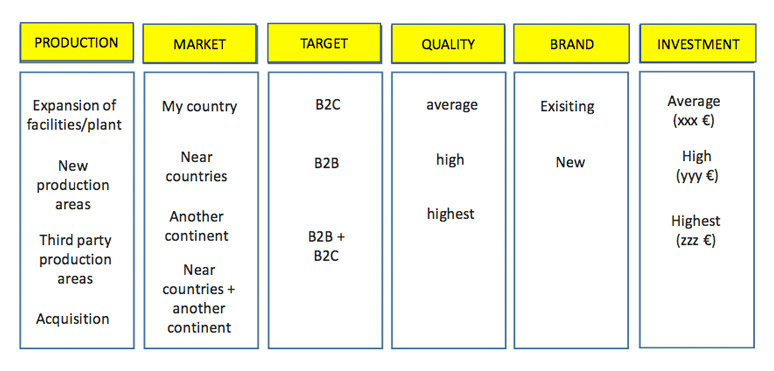 Third Step: Strategic Alternatives
Through a creative Brainstorming process you create alternatives which have to satisfy the following requirements:
Being creative
Being doable
Being significantly different
Once you have your alternatives, you can choose one option for each strategic decision.
Which is going to be the best choice to reach diversification and raise profitability?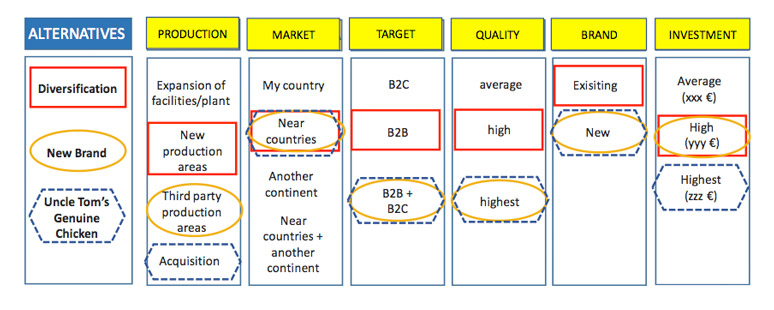 You will create a logical path for each alternative, highlighting the biggest uncertainties, the strong and weak points of each decision.
Alternative: Diversification
Production is placed in new areas, which can be either near to or far from the present areas; the market is made of the near Countries; target is business market; you produce the best value for money; there will be no new brand and investment is high due to the new facilities and the marketing campaign for the new product aimed at a new target. Uncertainties come from how the product will be perceived as a quality product under the new brand.
Strong points: proven sales channel
Weak points: high investment and a brand which is not perceived as a "high" brand
Alternative: New Brand
Production is placed in third party areas, with a limited investment and moderate risk rate; market is made of near Countries; target is both business and consumer; you produce the highest value for money possible; you create a new brand which can convey quality and investment is high due to marketing and the creation of new sale channels for the product. Uncertainties come mainly from the new brand development.
Strong points: quality brand not tied to the existing company, lean structure
Weak points: investment and accurate control of production line
Alternative: Uncle Tom's Genuine Chicken Farm
You buy a company which already makes high quality products and whose brand is well known; risk is moderate; market is made of near Countries; target is both business and consumer; you produce the highest value for money possible; you expand the new brand by merging sale and marketing channels; investment is very high due to brand acquisition. The few uncertainties come from merging the company cultures.
Strong points: brand identity and recognized know
Weak points: investments
The alternatives you produced could be incomplete with regard to a specific person needs, but they must not be seen as compartmentalized classes, you can combine the options of each strategic decision to create a hybrid solution, closer to the decision maker's needs.
Fourth Step: Information and Logical Reasoning
At this step you analyze the alternatives based on what you know and what you don't know of each alternative, and the logical reasoning which led you to one or the other:
Diversification: During launch phase I place my product on my Country's market and then expand. I check the values and limit risks in this first phase
Launching a new brand which is a direct competitors to high quality brands, taking advantages of my company financial power, but I don't merge companies creating a high quality culture for one of them. I assess risks and values of this operation
Uncle Tom's Genuine Chicken Farm, a well-known brand, which can expand and consolidate its market share taking advantages of company structure. I assess risks and values of this operation
You now have all the elements necessary to make a logical decision on the best alternative and reason why it is the best one. An illuminating quote, by W. Edwards Deming, can be of help : "Without data, you're just another person with an opinion"
Fifth Step: Commitment to Action
Once you made a decision, you allocate human and financial resources to define an operational plan to implement this decision.
The decisions made on this business goal by decision makers are greatly influenced by the business environment, the company culture, by external factors and, most of all, by a well-structured decision frame where nothing is left to chance.
Any decision has a certain degree of quality when it is made, if you know its values, information, risks and all the things you can control. If you leave that business environment or you let time pass, conditions will change and you will then have to decide if…you want to be a Chicken today or an Ostrich tomorrow!